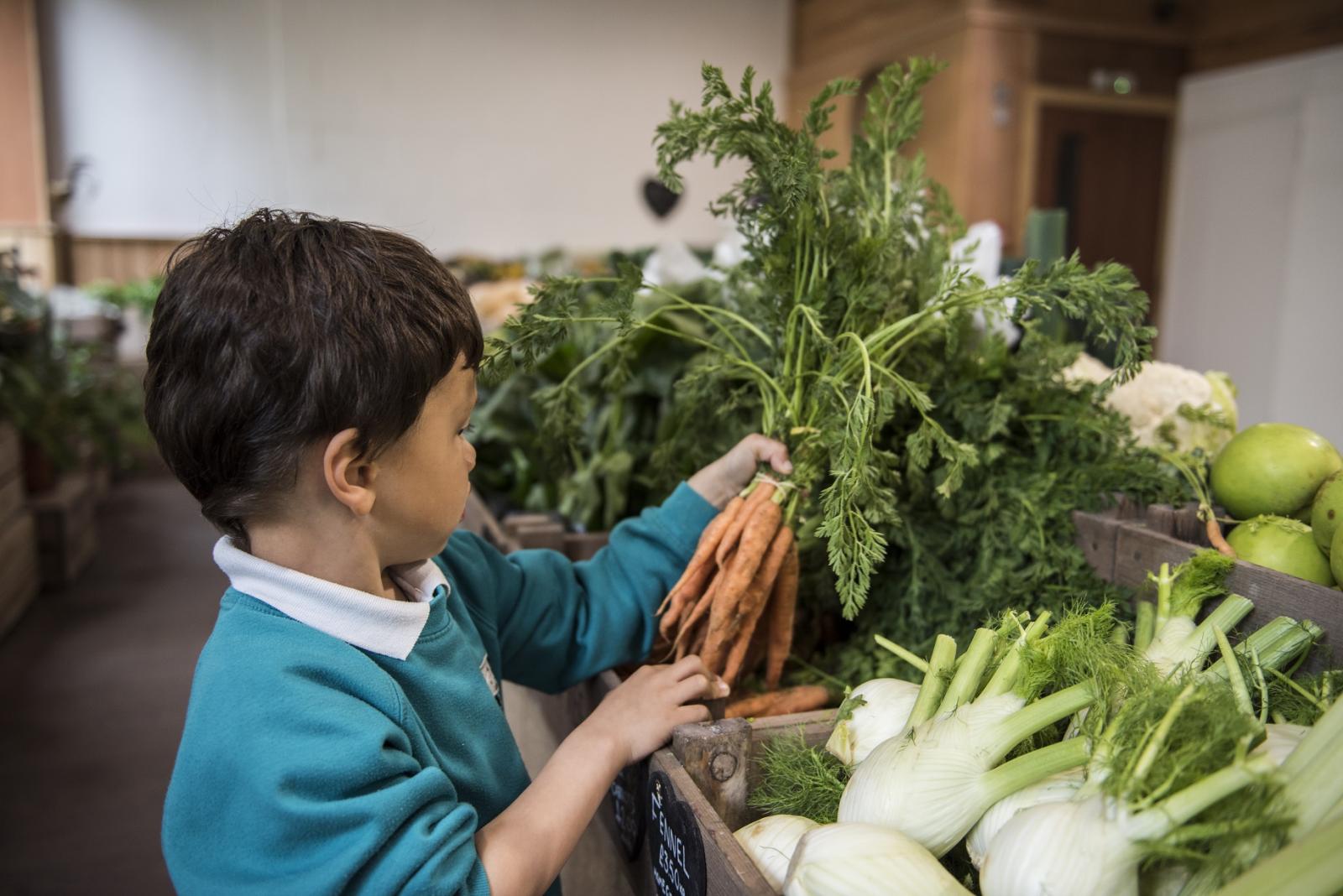 Children buying vegetables. Credit: GLA
London became the 17th local area to join the Veg Cities campaign. The announcement was made by the Chair of the London Food Board, Claire Pritchard, at the Veg Summit 2018 held at City Hall.
Pledges include:
Healthy Start: There is a commitment in the new London Food Strategy to inform future strategic approaches and interventions to help achieve a target of 80% uptake of eligibility in London. Earlier in the year, City Hall hosted a Healthy Start workshop and officers are now coordinating a working group, bringing together local authorities, early years practitioners, third sector organisations and infant feeding networks to assess barriers to the uptake of Healthy Start vouchers across London, share best practice and develop a response to the Department of Health consultation on the scheme.
Healthier Catering Commitment: The Mayor is supporting the HCC to develop a second tier in 2019 which will target food businesses and franchises with over 250 employees. It will include a range of new criteria focusing on sustainability, the promotion of healthier options and will align with national and Mayoral initiatives and campaigns including Peas Please.
Food Insecurity measure: The GLA will use its forthcoming Survey of Londoners this autumn to provide measures of adult food security and children's food security in London. Given that the UK government does not currently measure household food insecurity, this research will be a valuable resource for the GLA and other organisations looking to develop long-term solutions to the causes and impacts of food insecurity.
Good Food Retail Plans: The GLA will fund the development of plans to help boroughs improve their retail offer and increase access to healthy, affordable, food for local residents in the areas of most need.
Kitchen Social: The Mayor's Fund for London will support 330 holiday provision clubs develop a healthy food and social development offer by 2020, delivering 300,000 meals and improving the quality of holiday meal provision for 50,000 children. The programme will build an evidence base to campaign and lobby for statutory holiday meal provision.
London Markets Board: The London Food Board will work with the Markets Board to act upon the recommendations of the 'Understanding London's Markets' report, support London's markets and increase the supply of fresh, affordable and culturally appropriate veg across London.
Good Food for London/Beyond the Food Bank: The Mayor will continue to support the annual publication of both reports (this year's launch happened at City Hall on 5th November 2018), helping local authorities monitor their progress against indicators including Healthy Start, the London Living Wage and Food Growing.
Capital Growth: The Mayor will continue to support the Capital Growth programme and other food growing networks, supporting Londoners of all ages to grow more of their own veg.
Business support: The GLA will continue to support good food businesses by signposting them to support and advice via the London Growth Hub and funding sector specific support such as the Food Exchange in Vauxhall Nine Elms through the Mayor's Good Growth Fund which is providing good food businesses with affordable workspace.
Sustain are encouraging more areas to launch Veg Cities campaigns, and get local businesses and organisations making veg pledges. Veg Cities is currently the feature campaign of Sustainable Food Cities, and is run in partnership with Peas Please.
12/12/2018
---