Free fruit and veg bags to Lambeth families with children under four
Since September 2018, Incredible Edible LEAP has given out fruit and vegetable bags each week to young families in some of the most deprived wards in the London Borough of Lambeth to improve access to vegetables and health outcomes.
Visit the VEG CITIES local page
Lambeth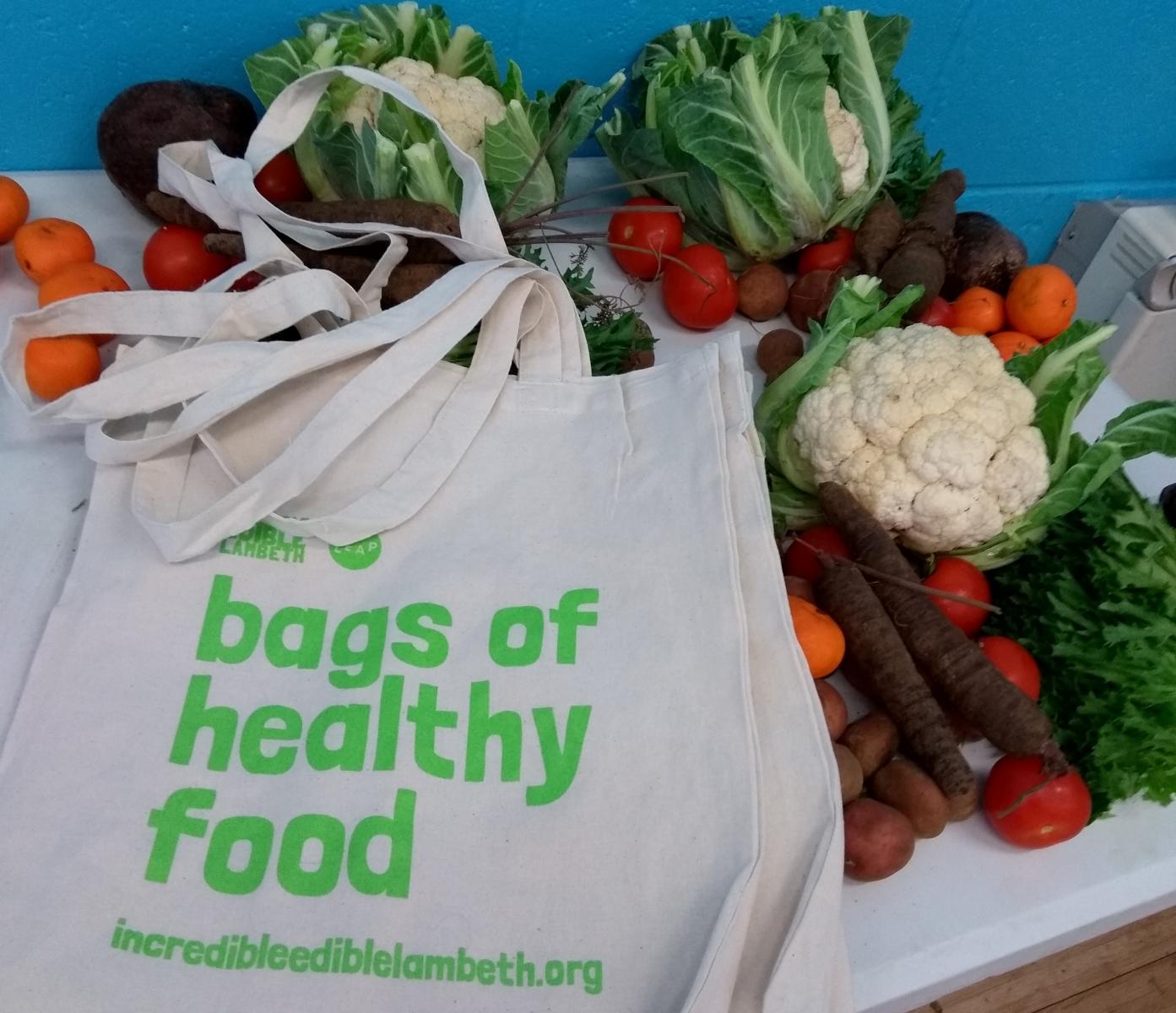 Incredible Edible LEAP, a partnership between Incredible Edible Lambeth and Lambeth Early Action Partnership (LEAP), have been working with surplus food distributors City Harvest to give more than 70 members a free bag of fruit and vegetables every week. The bags contain up to eight types of fruit and vegetables along with recipe ideas. Depending on what is available that week, these might include items such as bananas, apples, potatoes, swede, tomatoes, avocados, mushrooms, carrots or lettuce.
The programme arose from their local community healthy cook and eat sessions. Those sessions provided inspiration for cooking and eating vegetable-based meals that are low in fat and salt. However, Incredible Edible LEAP wanted to make it easier for people to go away and regularly include more vegetables in their diet. What would happen if they gave people a bag of vegetables for free? Would it provide the incentive for more significant behaviour change?
The team piloted the programme for six weeks and tested some important questions:
Would recipients use the variety of vegetables, including vegetables they had never tried before or which were over-ripe?
Would the bags make it easier for people to access fruit and vegetables?
Would people change their behaviour and eat more fruit and veg?
Because the project is reliant on surplus food, supply varies from week to week. One week, the only vegetable that arrived was mooli— so each bag had three. The team had to quickly look up mooli recipes online to include in the bags and conversations created a buzz. Everyone accepted the challenge!
As the programme went on, people appreciated the vegetables more and more. One person estimated that by six weeks she was saving £10 a week.
"I have eaten vegetables I have never seen or eaten before. The whole family are enjoying the new vegetables. The children like the asparagus. It has a positive impact and we will be using more vegetables in our cooking. Since receiving the food bags, my children are cutting a lot more vegetables."
Most people said that taking a bag of vegetables home overcame certain barriers:
"It was good to get the vegetables because it is very expensive and the market is a bit of a distance to travel to."
One parent said her son enjoys helping prepare meals with vegetables. He likes to see what he is about to eat and how it is prepared or else he won't eat his meals.
"It saved me money. Makes me try vegetables. I use all the vegetables and put them in salads, stews and wraps. It is difficult to go to the veg aisle with kids."
Incredible Edible LEAP lets people know that the food has been saved from going into the bin. Members feel a sense of responsibility in ensuring that it is never wasted:
"Having the weekly vegetable bags helps me to avoid waste and plan ahead."
The health benefits started to emerged:
"I made cabbage soup. My husband is diabetic and has high cholesterol. The food bag and recipes help me cook healthy foods for the family."
After the six weeks pilot, it was obvious that there is a demand for the bags and that they are meeting a need so the project continues.
Incredible Edible LEAP is now looking for volunteers to set up the project in new areas in Lambeth and expand to reach 800 families on low incomes in four of the most deprived wards with the continued support of City Harvest.
Sustain are encouraging more areas to launch Veg Cities campaigns, and get local businesses and organisations making veg pledges. Veg Cities is currently the feature campaign of Sustainable Food Cities, and is run in partnership with Peas Please.
15/02/2019
---