Bags of Taste – bags of potential for transforming eating habits
Cooking lessons alone have a limited impact on long term diets. 'Bags of Taste' is a new social enterprise that delivers a four-stage cooking and behaviour change programme to participants in or at risk of food poverty, with poor diets.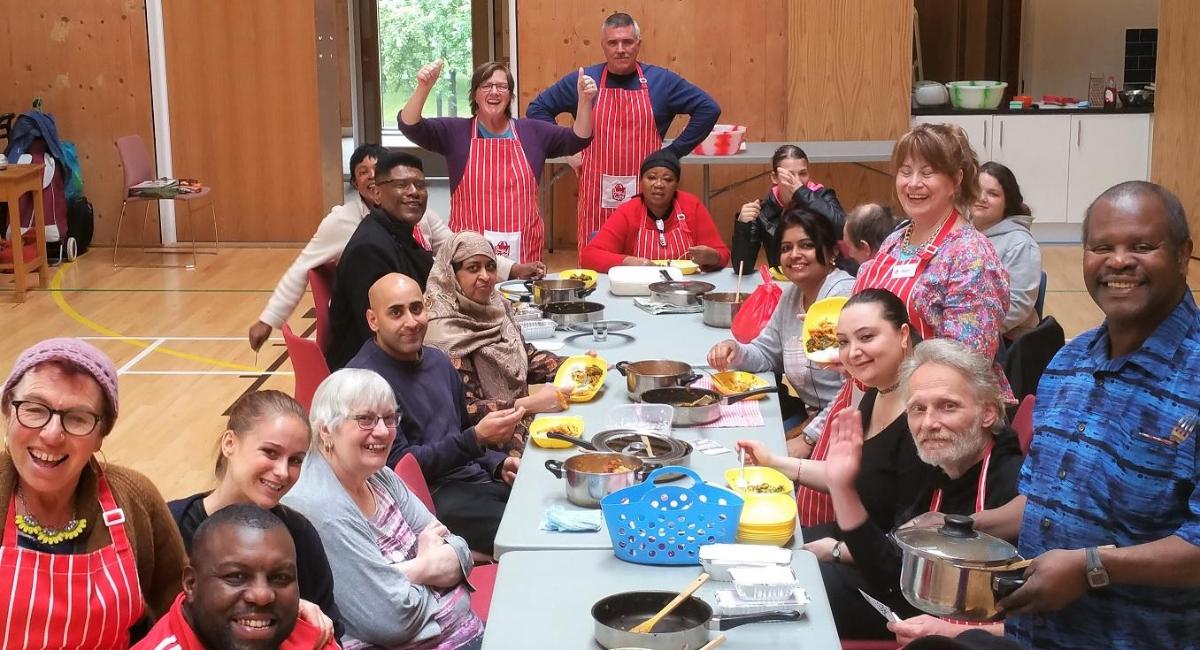 Hands-on cooking classes are great fun and dishes are designed to cost less than £1 per head. Credit: Bags of Taste
Bags of Taste hands-on cooking classes are great fun and include delicious recipes from around the world designed to cost less than £1 per head. At the end of every lesson, participants can buy bags of ingredients at a cost of £3 each, with enough food included for four meals and the opportunity to enrol in volunteering with the local programme.
The four stages of the programme are:
Stage 1: Outreach to people who wouldn't normally attend a cooking class
Bags of taste reaches people struggling with food costs who need to feed themselves on a tight budget but often rely on expensive and unhealthy ready meals and takeaways.
Stage 2: Locally run, community based courses teach people how to make £1 meals
Cooking lessons are free for participants.
Bags of Taste helps to build local capacity, training local staff and volunteers to run four 2.5hr lessons across four weeks.
Two recipes are taught each week, eight in total. The recipes include takeaway favourites like Singapore Noodles and Fajitas. Recreated to reflect familiar tastes, be quick and easy to make and use as little equipment and as few ingredients as possible.
There is a demo of the recipe, then local staff and volunteers assist and mentor their peers as they cook the meals for themselves. Also providing tips on where to buy ingredients locally, waste management, storage and skills. Afterwards everybody sits down to enjoy eating their meal together.
Stage 3: £3 bags of ingredients, sourced locally, at cost, are available to participants who want to cook at home
The bags contain enough to feed a family of four. Typically two thirds of our participants buy a take-home "Bag of Taste". This is the critical element of the programme that leads to the long term change in people's cooking and eating habits.
Participants commit to continuous learning at home
Friends and family enjoy the food and ask them to cook again
Participants grow in confidence and they're reassured that it's worth buying a few, new, unfamiliar ingredients.
Stage 4: Participants can take part in the Volunteering Programme, providing long term, continuous learning
By doing so they can learn new recipes featured in each course. It also makes the Programme sustainable by a local volunteer work force which creates its own on and offline local communities. This encourages participants and further improves confidence and skill. In many cases this can help some back into paid employment.
Latest evaluations for the NHS show that participants save on average 25 per cent on their food bills and many stop eating takeaways, improving their diet, eating more vegetables and often losing weight. The savings add up to a typical £1,400 a year. Participants are also integrated into their local community and friendship groups.
The programme works with a large range of referral partners including The Salvation Army and Crisis, who refer students onto their courses. To preserve the mixed community nature of the group, courses target around 60 per cent of students from referral partners and 40 per cent from the community at large, although this can vary depending on locations and funding streams. Current funders include the Evening Standard Dispossessed Fund, Guys and St Thomas' Charity, local councils and charities. Their funding is enabling a growing number of courses being delivered in several London boroughs, Sheffield, Hastings and Thanet.
The founder and Managing Director Alicia Weston has recently won a British Empire Medal (BEM) in the New Year's Honours list for helping to teach 1,500 vulnerable and disadvantaged people to cook and budget.
For more information or to get Bags of Taste in your local area visit the website.
Sustain are encouraging more areas to launch Veg Cities campaigns, and get local businesses and organisations making veg pledges. Veg Cities is currently the feature campaign of Sustainable Food Cities, and is run in partnership with Peas Please.
14/01/2019
---