Little Veg Libraries open in Leeds to share seeds, seedlings and veg surplus
Taking a leaf from the little book libraries springing up all over the city, a new initiative by Feed Leeds is sprouting in time for the start of this growing season.
Visit the FoodWise Leeds VEG CITIES local page
Leeds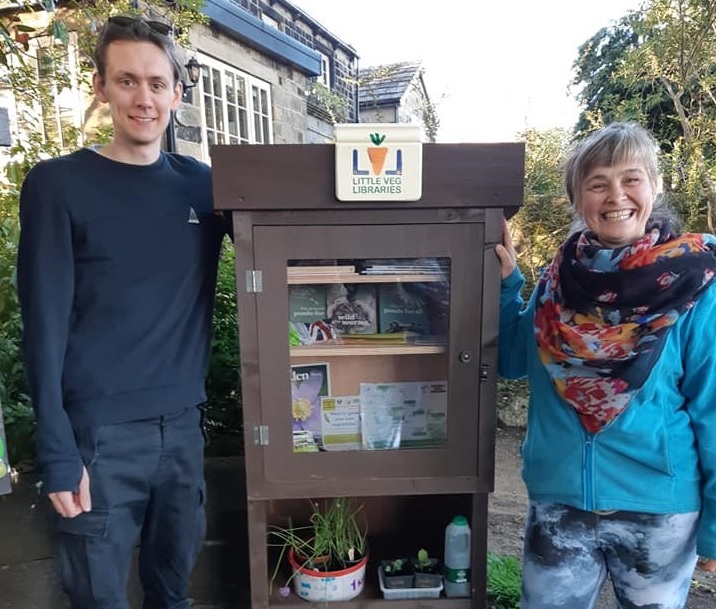 Feed Leeds' James Harrison and Becky Mears. Credit: Incredible Edible Aireborough
Little Veg Libraries have been permanently-mounted at prominent sites so seeds, seedlings, surplus veg grown locally, recipes and more can be shared. Feed Leeds, who provide design ideas and a stencil, are inviting everyone to make their own veg libraries and once installed lists them on a map. They have been set up as of the #getgrowingleeds campaign, which also includes Sow a Row Xtra, Growing Friendship, and Leeds Hedge Veg.
The first two prototypes were made by Neil Hollingworth of North Leeds Joinery, with funding from Leeds Community Foundation . These have been installed in Guiseley (managed by Incredible Edible Aireborough / Season Well), and Garforth (Incredible Edible Garforth). The latest is installed near Garforth Medical Centre, where the high footfall and the community of passionate growers involved in the Incredible Edible Garforth movement will ensure the shelves of the library are permanently re-stocked with new seedlings.
A third veg library, in a striking blossom pink, built and installed in Chapel Allerton Spaces, was made by the local three-generation-strong Leeds Woodcrafters and sponsored by Stoneacre Properties. It is located near the living food bank veg beds as a space for everyone to pick fresh veg with "Veg Club" casual community grow sessions every Saturday. Feed Leeds has two more under construction, with more people picking up on the idea every day.
Sonja Woodcock of Feed Leeds and FoodWise Leeds said; "I was inspired by seed sharing stations that I'd seen in Canada and thought we could build on this idea by creating Little Veg Libraries that not only encouraged sharing seeds, but also seedlings and surplus produce. This way we could provide community support throughout the growing season and really build a good food movement in Leeds. It's incredible to see how quickly they are catching on!"
Lucy Williams, Veg Cities Leeds Coordinator said: "These are more than just static libraries, it's a movement bringing together people passionate about food growing and spreading around Leeds."
Sustain are encouraging more areas to launch Veg Cities campaigns and get local businesses and organisations making veg pledges. Veg Cities is a campaign of Sustainable Food Places and is run in partnership with Peas Please.
14/06/2021
---