Oasis Hub Waterloo putting good food at the heart of the school community
Oasis run over 50 schools and serve around 30,000 children across the UK. In addition, community hubs bring together volunteers, activists and professionals in 36 different locations generating further impact. Oasis Hub Waterloo, located in the London Borough of Lambeth, is trialing new approaches to make good food and fresh vegetables more accessible to the school community.
Visit the VEG CITIES local page
Lambeth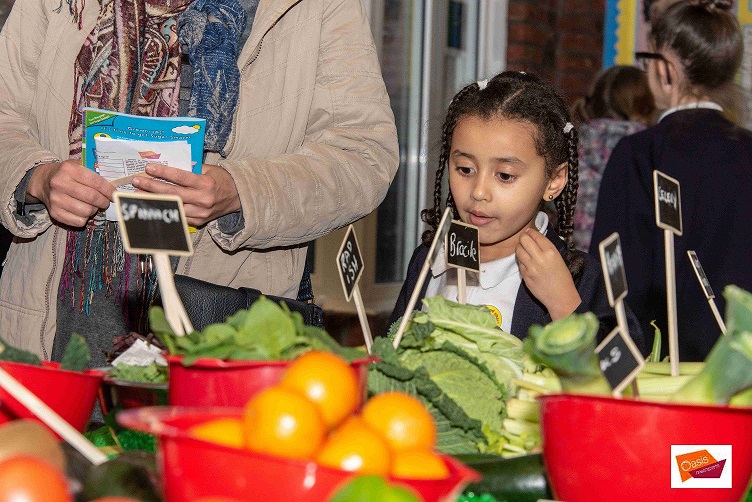 Credit: Oasis Waterloo
Oasis Hub Waterloo believes that good food brings a community together. It serves and convenes the community in a number of ways to improve food resilience. For example, the foodbank tackles food insecurity; the urban farm promotes growing and rearing animals; and the schools provide a hot lunch to all students through family style dining.
Through the Healthspace project, funded by the Guys and St Thomas' Charity and Battersea Power Station Foundation, Oasis Hub Waterloo is taking a system-wide approach to help the community tackle child obesity by recapturing the time, capacity and headspace required to access a healthier diet. The project taps into the potential of the wider community to find lasting solutions to the high rates of child obesity - by placing good food at its heart and pooling resources to co-produce innovative prompts and cues in schools and the local environment to disrupt habits and norms.
Several initiatives are sprouting out of this project, including a parent-led enterprise group that wants to make fresh fruit and vegetables more accessible and appealing to the school community. This group of parents is starting a stall selling fresh fruit and vegetables at the school gate – focusing on high quality and low price, disrupting the school journey home by providing irresistible produce at arms-reach. They are also delivering cooking demos alongside the stall to demonstrate how uncommon fresh vegetables can feature in culturally appealing recipes.
Feedback has been positive, with many parents dropping by to pick up extra vegetables on special offer and remarking on the quality and convenience of the stall. The tasters have appealed to children, putting healthy snacks in their hands before they leave school. Going further they seek to set up a smoothie bar to appeal to the lunchtime workforce at their local street market.
Find out more:
Email: healthspace@oasiswaterloo.org
Twitter: @OasisHealthSE1
Facebook: /OasisHealthSE1
Sustain are encouraging more areas to launch Veg Cities campaigns, and get local businesses and organisations making veg pledges. Veg Cities is currently the feature campaign of Sustainable Food Cities, and is run in partnership with Peas Please.
05/03/2019
---