More vegetables during holidays and after-school
Portsmouth City Council runs six local youth club projects and six adventure playgrounds across the city, throughout the school holidays and after school hours. Alongside other activities, children and young people try new healthier foods, learn to cook, eat healthy balanced meals, and learn about growing their own fruit and vegetables.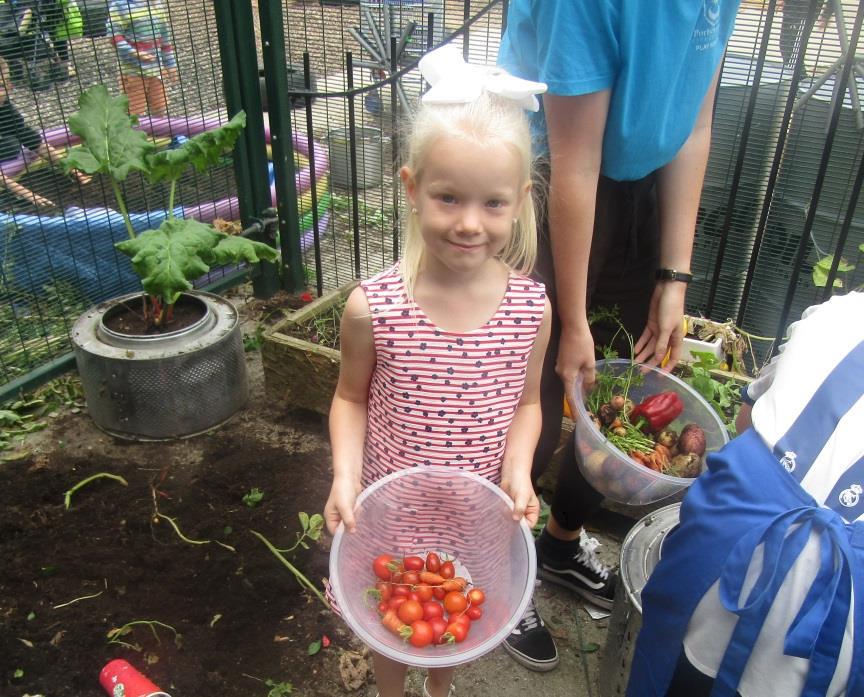 Clubs and playgrounds in Portsmouth grow their own vegetables. Credit: Portsmouth City Council
The Council works alongside the local food partnership FOOD Portsmouth, and the FoodCycle project, and supported by the Children's Health Fund they have collected and distributed surplus food donated from local supermarkets often in the form of fruit, vegetables and cupboard staples. Alongside this provision, the Council also works with Fareshare, a charity fighting hunger and food waste, who supplies a range of fresh surplus products at a small weekly cost to the sites. Additionally, Warburtons donate some of their bread products towards this provision during the school holidays, which helps to supplement the food offer.
A Food and Health Project Worker supports the clubs and playgrounds to dish up the healthier meals and encourage children and young people to get involved with cooking and eating together. Many of the sites grow their own fruit and vegetables, which is a further opportunity to engage the children in learning and trying new things. This educational aspect of the offer is important because youth & play is an open access service supporting many local families with children aged from 6 - 19. A quote from 9-year old Lilian sums this up well:
"I started my own garden growing eggplants, tomatoes and onions. We use the vegetables to make soups."
During the last summer holidays, the Summer Food & Fun programme was run for the second year. Throughout the 6 weeks' holiday, each of the 10 locations offered a range of healthier foods to those who may be hungry whilst spending time on site playing and interacting with children, young people and families. A total of 7,000 meals or snacks were offered, up from 4,500 the year before.
Feedback from children and parents has been positive. Families have appreciated the extra food provision over the holidays, which helps offset some of the added financial pressure for some families during this time. It also encourages children and young people to eat new fruits and vegetables.
Other areas should consider offering similar provision by linking up with local partners and supermarkets to offer healthier food to those in most need while tackling food waste. The financial sustainability of the offer needs to be taken into account, in order to ensure the provision can remain in place if funding is reduced.
Sustain are encouraging more areas to launch Veg Cities campaigns, and get local businesses and organisations making veg pledges. Veg Cities is currently the feature campaign of Sustainable Food Cities, and is run in partnership with Peas Please.
08/11/2018
---