Veg Cities takeover of Durham Farmer's Market
Hundreds of students and their parents were welcomed back to Durham for the new academic year by a veg takeover of the Farmer's Market in the city centre.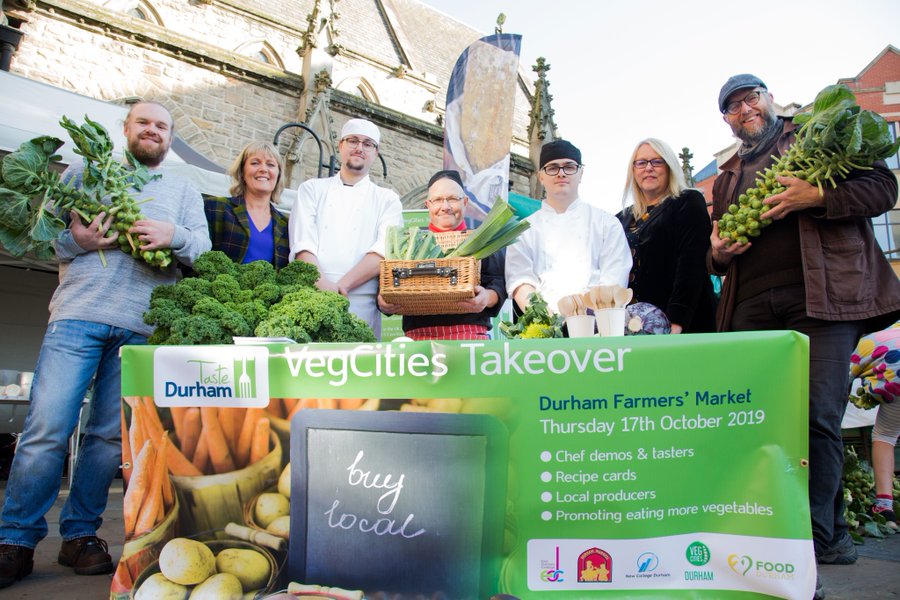 Credit: Visit County Durham
The takeover was a partnership of Durham Community Action, Visit County Durham, through its destination food brand Taste Durham, Durham Markets, New College Durham and East Durham College. Hundreds of visitors purchased local produce, watched a vegetable cookery demonstration by students from two colleges, sampled veg-centered dishes and took home Taste Durham recipe cards.
Durham Community Action, which hosts Food Durham, the County's food partnership, challenged catering tutors and students at the two further education colleges in Durham, New College Durham and East Durham College, to create two simple veg-centered meals each, which they then prepared in a live cookery demonstration at the farmer's market and handed out tasters. The students used vegetables from the only field vegetable producer in the county (who normally sells his produce at the farmers' market).
Visit County Durham, the county's destination management organization, is leading efforts to promoting vegetable produce from the county to visitors (e.g. parents of students) who make up a substantial part of the visitor economy.
Michelle Gorman, managing director at Visit County Durham, said: "We're delighted to pledge our support to the Veg Cities takeover. The distinctiveness of Durham's produce is extremely important to the local economy, with visitors spending £318m on food across the county each year. Initiatives like these not only support local producers, but they also encourage people who live here, and those visiting, to sample the best we have to offer".
Peter Samsom, Food Durham's Veg Cities Coordinator, added: "A staggering 80% of adults in the UK don't get their 3.5 portions of vegetables per day, despite the fact that we all know that veg is good for us. Through this event, we hope to show that meals where vegetables are the main 'players' are tasty and easy to make, and they're pretty cheap too. At the same time, it's great to make the link with local Durham producers and support the local economy."
Sustain are encouraging more areas to launch Veg Cities campaigns and get local businesses and organisations making veg pledges. Veg Cities is a feature campaign of Sustainable Food Cities and is run in partnership with Peas Please.
07/11/2019
---