St Mary's School pledge for more veg
A primary school in the Dorset coastal town of Bridport adopted a farm to fork approach to get students and the school community involved in producing, preparing and eating more vegetables.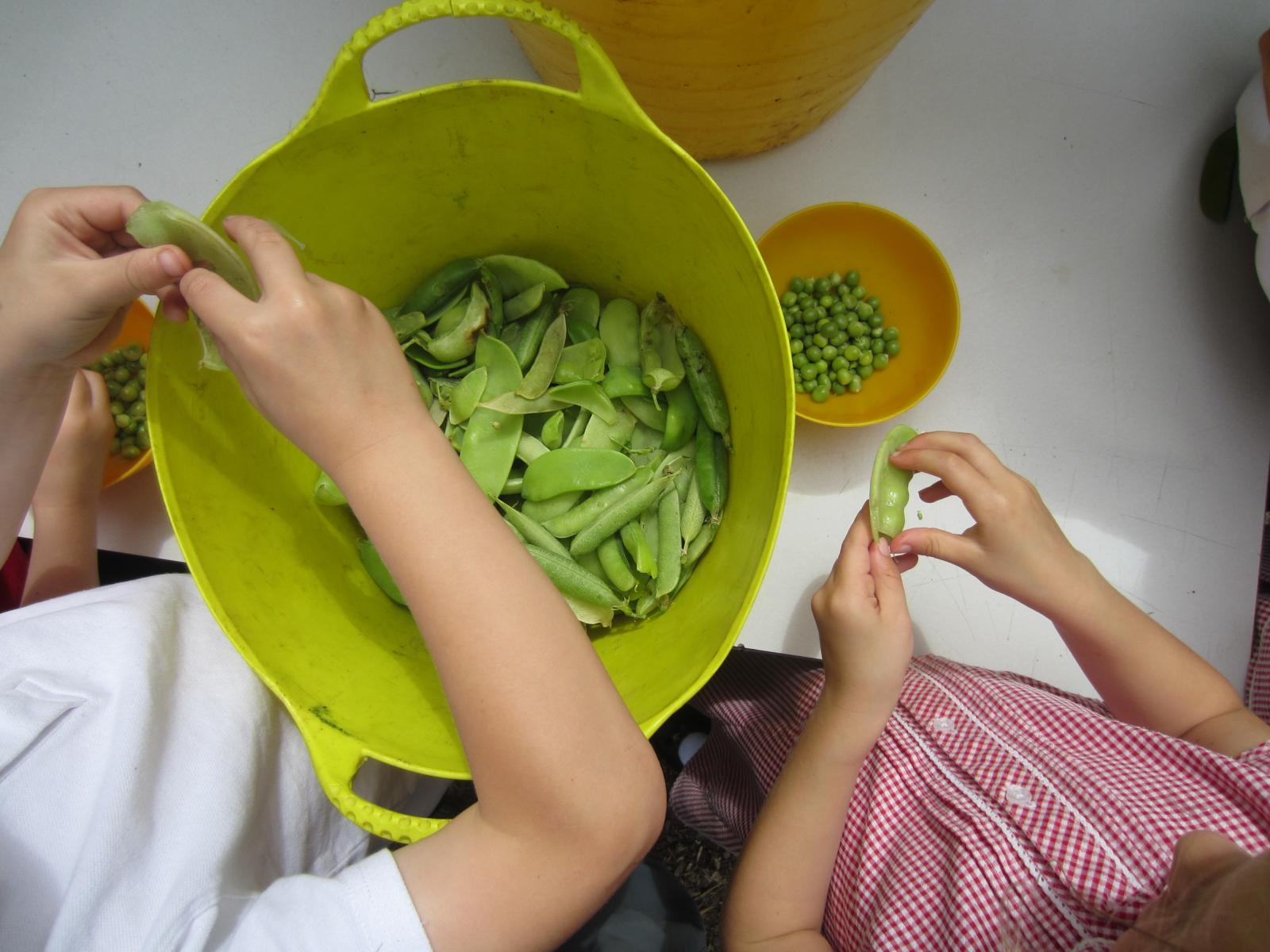 Podding peas at St. Mary's School. Credit: Transition Town Bridport
Back in 2014, a group of volunteers from Transition Town Bridport and Home in Bridport installed a polytunnel in St Mary's Primary School in response to the national and local concern about childhood obesity. The school is in the catchment area of the Skilling estate, a disadvantaged community living in social housing, and the project was aimed at tackling food poverty and supporting an increase in the take-up of free school meals. The food grown is used in the school kitchen and fruit tuck.
In the four years since the garden has been in operation, school meals have become more popular but there were concerns about waste, especially vegetables. With a grant from Awards for All, the team planned a project, linking up with Peas Please, to start promoting vegetables through growing, preparing and eating together.
In April 2018, the project was launched at an assembly of the whole school. To kick of the campaign, children had the opportunity to add their own personal veg pledge in a "pledge tree". A nutritionist ran a series of workshops with the older pupils, which involved basic food choices for health and pleasure. Fun tasks were created to discover different tastes and to understand the role of all the senses in eating. The head-cook and two food educators led a five-week cookery course for parents and children using only fresh vegetables. Participants were then given a recipe book containing all the dishes from the course. The two part-time gardeners worked with pupils to grow legumes from seed. A 'Legume Castle' was planted and harvested throughout the summer.
In June there was an open afternoon entitled 'Taste the Garden', showcasing the Edible Garden. The mayor, the pupils' families and various visitors were invited to enjoy snacks prepared by the families who'd taken the cookery course, games (including 'Pea Ping Pong') and storytelling courtesy of a creative parent. The cooks were also part of the Bridport Food Festival, leading workshops in the children's marquee.
The project culminated with a harvest celebration in September, where the whole school participated in picking and podding dried beans, making pumpkin soup, baking bread, and sharing a meal together.
This work has been recognised by the George Payne Memorial Trophy from the Melplash Agricultural Show, which is awarded for achievement in an educational allotment.
To know more about the Peas Please initiative or the Veg Cities campaign or get involved go to vegcities.org
26/09/2018
---