Caterer Caterlink pledges to increase vegetables in recipes
Research has shown that 80 per cent of children and 96 per cent of teenagers aren't eating enough vegetables. Caterlink – an education contract caterer with a strong presence in London, the South East and the South West – is helping to turn these statistics around by pledging to increase the amount of vegetables served in their recipes by ten per cent within the first two years.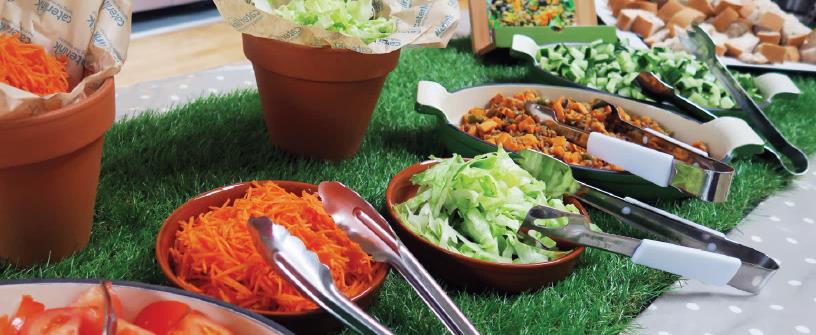 Credit: Caterlink
The pledge was made as part of the Peas Please programme and in support of the Veg Cities campaign and applies to meals served in schools, colleges and universities. As an education contract caterer, Caterlink wants to ensure that children and pupils have access to tasty, nutritious and balanced meals and vegetables play an important part in this.
Caterlink has been trialling new approaches to increase the amount of vegetables in recipes including:
Taster Sessions and Taster Pots: It can take children between 10 to 15 times of trying a new food to like it, so encouraging the children to try new vegetables, or different preparations of vegetables they are familiar with, is key. By offering taster sessions and small pots of new recipes, it can encourage children to try it the next time around.
'Added Benefit' Sessions: They have delivered sessions in schools where they talk about healthy eating and vegetables with pupils through assemblies and cookery classes.
Kitchen Gardens: They have supported and funded schools to start their own kitchen gardens where the children can learn about growing vegetables. It is much more likely that even fussy eaters will eat vegetables if they have been involved in the growing process.
Menu Development: When creating menus, Caterlink ensures that they contain a number of popular dishes that include extra portions of vegetables, such as vegetarian curries, pasta and fajitas.
Meat Free Days: They have encouraged more meat free days as well as the introduction of new 50 per cent plant-based protein recipes, all of which contain more vegetables and less meat on average compared to the original recipes.
Salad Bar: They offered a daily salad bar and have done a lot of work ensuring that children's favourite vegetables are available daily to maximise consumption – grated carrots, sweetcorn and cucumber are the favourites in primary schools.
Hidden Vegetables: Vegetables are added anywhere and everywhere, including in desserts. Favourites with the children include Carrot and Courgette Cake and Chocolate and Beetroot Brownie.
Caterlink supported the Veg Power campaign #EatThemToDefeatThem and their school kitchens have been incorporating the Veg of the Week into dishes and across salad bars, as well as making fun displays using the marketing materials and creations made by pupils.
Eighteen months into the project, the caterer has surpassed their initial target, with an increase of vegetables in menus of 11 per cent. On average, the caterer offers five and a half portions of vegetables daily per pupil, taking into account the side dishes, main meals and salad bars (and sometimes vegetables in desserts). Extra portions of fruit, mostly in deserts, come on top of that.
Going forward Caterlink will ensure it maintains the ten per cent increase across menus and look at introducing different types of vegetables and exciting new recipes, to keep vegetables fun and interesting for the children.
Sustain are encouraging more areas to launch Veg Cities campaigns, and get local businesses and organisations making veg pledges. Veg Cities is currently the feature campaign of Sustainable Food Cities, and is run in partnership with Peas Please.
08/04/2019
---