Glasgow pupils win competition to find the best veg-themed posters
40 schools competed to design the best poster showing the power of vegetables for a city-wide healthy eating ad campaign in Glasgow. Winners were announced at the Barras Art and Design centre with live music from Barrowband and help from Broccoli Bill. The winning designs will be displayed on Clear Channel's digital advertising screens around the city in April.
Visit the Glasgow Community Food Network VEG CITIES local page
Glasgow City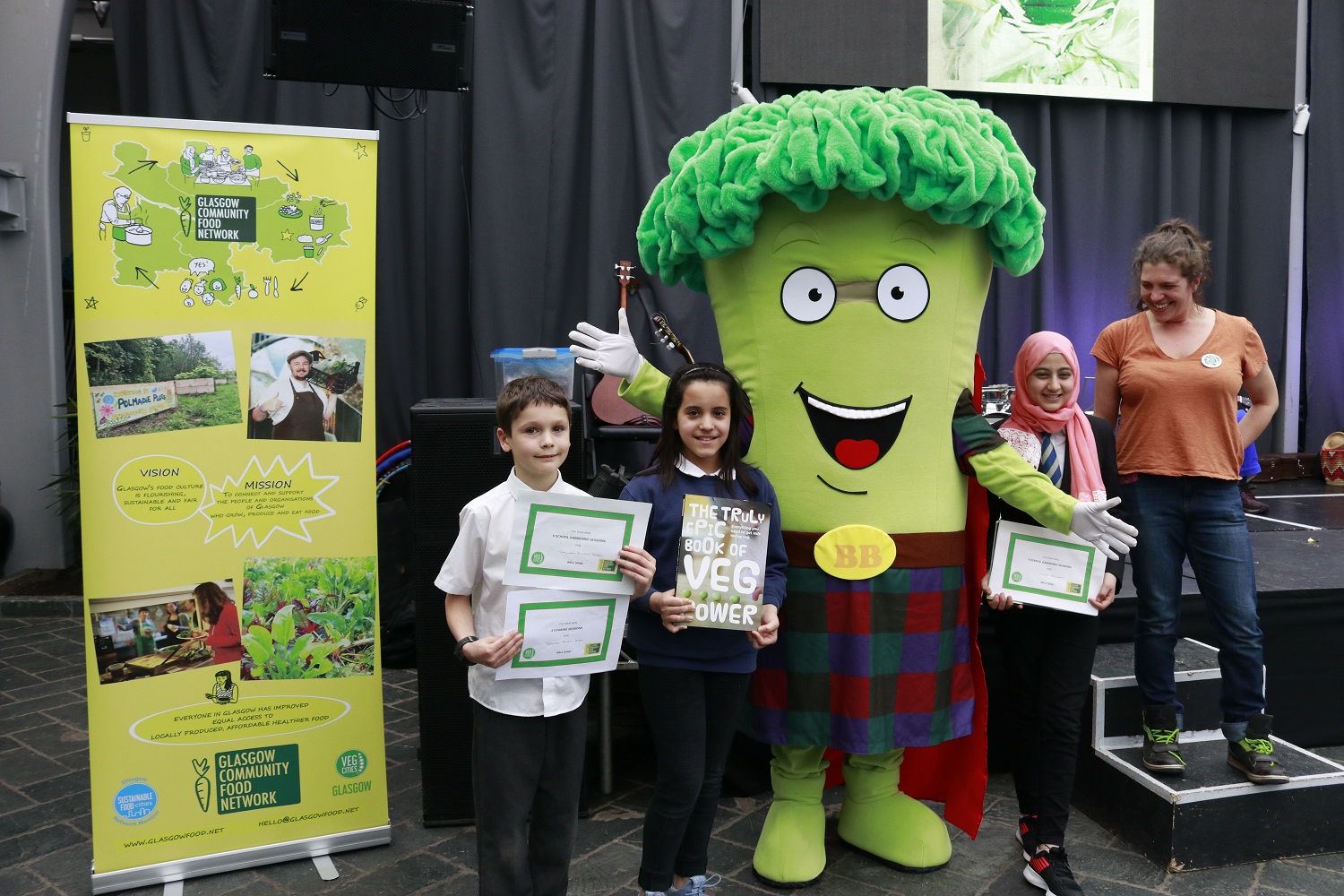 Winners with Brocolli Bill and Abi Mordin of GCFN. Credit: Hannah Logan
The poster competition was initiated by Glasgow Community Food Network (GCFN) and supports Veg Cities and Veg Power campaigns. The design competition helped school kids think about the advertising they see every day and learn how to make veg fun and exciting to other young people.
Some 40 schools with over 300 entries, P4-P7 and S1-S3 competed with each other to see which pupil could come up with the best poster design showing the power of Veg.
10 finalists from a total of 300 entries from primary and secondary schools had their posters judged by Dan Parker from the Veg Power campaign, and creative design agencies Warriors Studio's and BC Printing who are sponsoring the competition by printing up the winning designs. All the judges commented how overwhelmed they were by the amount of great ideas and creativity from the kids.
The primary school category winning design was made by a Thornwood Primary School and the secondary school category was made by Lourdes Secondary School. Both pupils will get support from Scottish based creative agency Stripe Communications to prep their work for the Clear Channel digital billboards. All design and advertising support was donated.
The winning schools received six gardening and cooking sessions from Glasgow Community Food Network and a Veg Power recipe book for fun and exciting ways for kids to cook with veg.
Martin Corke, Marketing Director at Clear Channel said: "As existing supporters of the national Veg Power campaign, we are delighted to partner with Glasgow Community Food Network on this exciting local initiative. Out of Home advertising is uniquely positioned to help deliver important messages to the public and act as a force for good in local communities and we are proud to play a part."
"I've never seen the children so excited about vegetables - this has been great!" (Mr Steinbeck, Teacher at Highpark Primary School)
"Gardening and recycling - two of my favourite things!" (Pupil from Dunard Primary School, during making paper pots and planting peas during the awards event)
Sustain are encouraging more areas to launch Veg Cities campaigns, and get local businesses and organisations making veg pledges. Veg Cities is currently the feature campaign of Sustainable Food Cities, and is run in partnership with Peas Please.
03/04/2019
---