Eating more veg during Covid-19 and beyond
While for some people more time at home and food service closures are boosting home cooking and more localized food purchasing, many are struggling to access healthy food. Brighton and Hove Food Partnership (BHFP) stepped in to support residents accessing healthy food and fruit and veg in emergency food parcels and hot meals and through signposting and advice.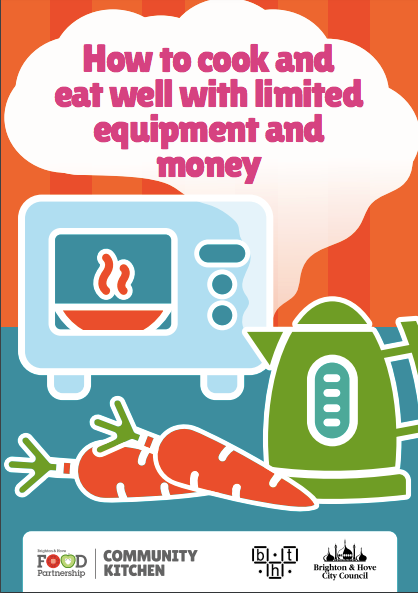 Concern around the inadequate content of the Government emergency food parcels emerged early on in the pandemic but in Brighton and Hove the BHFP co-ordinated the central food processing hub where purchased and donated food was collected and packaged into individual food parcels or food for meal preparation. This ensured more control on the contents and fresh vegetables were included within emergency food parcels and into hot meals going out to those shielding and isolating. Over 3,200 adults and 1,300 children have received a food parcel which includes veg each week and 2,385 people have received a hot meal with veg each week from eight community organisations and lunch clubs.
The food partnership updated the 'where to buy' web pages with details of local veg and groceries to help residents access food during Covid-19. The page has had over 27,000 unique page views to date. Local veg box schemes reported a huge increase in demand and most had to close their schemes to new customers.
To support residents to eat more veg, BHFP wrote a blog with ideas for low-cost healthy meals and snacks containing veg, which has had 770 unique views to date and went out to over 7,000 people via their newsletter. They also produced a booklet with information and advice on how to cook healthy recipes using limited equipment, such as a microwave or kettle, and over 5,000 have been distributed via the emergency food hubs and other partners.
More long term, the process of updating the Brighton & Hove City Council Minimum Buying Standards for catering contracts was underway just before the Covid-19 crisis. BHFP aims to have a requirement around increasing consumption of veg included as part of the new standards by the end of the year, although this process will depend on staff capacity at the city council and what happens next with Covid-19.
Read more about Brighton and Hove's local response to Covid-19 in this SFP case study.
Sustain are encouraging more areas to launch Veg Cities campaigns and get local businesses and organisations making veg pledges. Veg Cities is a feature campaign of Sustainable Food Places and is run in partnership with Peas Please.
05/08/2020
---