Reflecting on Veg Cities progress through the Peas Please annual report
Peas Please have published their third annual report, showing a steady increase of 72.1 million additional portions of vegetables sold across the UK between July 2019 and June 2020. We look back on the amazing achievements of Veg Cities who have been integral to this work.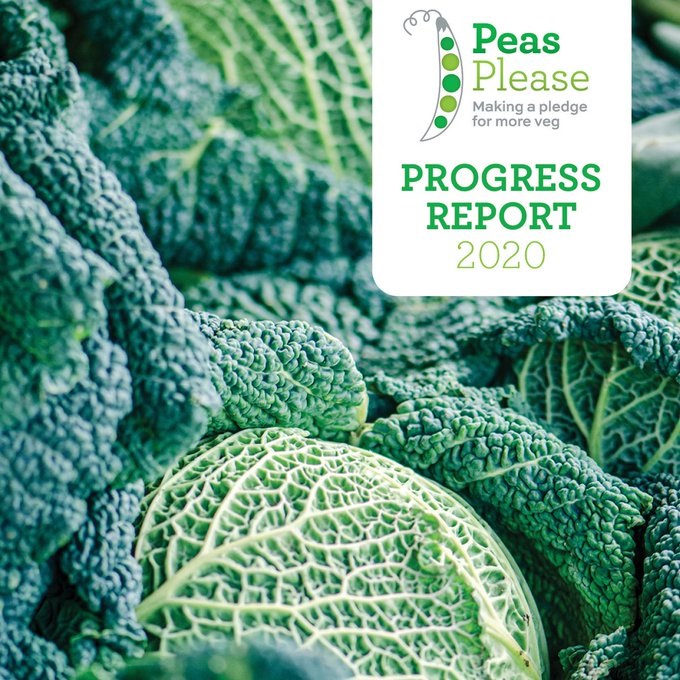 Credit: Food Foundation
We now have 25 Veg Cities and 430 different organisations taking part in the campaign. Together, these organisations have made a variety of different pledges for more veg, including committing to promote veg, serving two portions of veg in every meal, running veg growing and cooking classes, and educating local communities about food waste. As a result of this effort, an amazing 9.5 M additional portions of veg have been served over the past three years.
Main acheivements:
635,513 people have been directly reached through veg promotion activities
12,494 people have taken part in growing and cooking classes
535 gardens have been set up or supported as part of creating a network of growing spaces
370 initiatives to monitor and reduce food waste have been established – 134 more than last year
24 vegetable markets and stands have been set up.
Veg Cities over lockdown
Following the implementation of lockdown measures in March, many Veg Cities and local food partnerships were forced to redirect their focus away from working to achieve wider food system change towards providing emergency food provision measures to their local communities, as many citizens struggled to access fruit and veg.
Brighton and Hove Food Partnership (BHFP), for example, began coordinating a central food processing hub. Their involvement meant that fresh vegetables were included within emergency food parcels and within hot meals going out to those shielding and isolating. As of August 2020, over 3,200 adults and 1,300 children had received a food parcel which included veg, and 2,385 people had received a hot meal with veg from the eight community organisations and lunch clubs operating in the area.
In Aberdeen meanwhile, as in many other places around the country, there was a huge surge of interest in growing food. Community Food Initiatives North East (CFINE) came together with One Seed Forward, Tullos Community Garden and Granite City Good Food to support the local community in the Torry area of Aberdeen, with access to seeds and other garden inputs. As of July 2020, 250 growing packs had been delivered to households throughout Aberdeen as a result, as well as materials for gardening activities for vulnerable children as part of a summer 'Food and Fun' programme. CFINE is now running cooking sessions to inspire people to creatively use the produce they have grown.
'We've been amazed by the way many local campaigns adapted their planned work despite the challenging circumstances and the generosity of many individuals and organisations looking to help out those who are struggling. Two silver linings of this pandemic are the increased interest in growing our own vegetables and more localised shopping habits. Local campaigns have been quick to adapt their work to support residents to grow their own vegetables at home and promote local fruit and veg box schemes to encourage more local veg production and consumption.'

Sofia Parente, Sustainable Food Places, Policy and Campaigns Coordinator
Despite these amazing achievements, the overall progress of the Peas Please initiative has slowed this year, but this is hardly surprising given the turnmoil Covid-19 has caused this year on our food sector in particular. While many retailers have seen a significant uplift in grocery sales, the Out of Home sector has been significantly impacted by restaurant, school and workplace closures, with social distancing measures profoundly affecting many of the Pease Please pledgers. New figures of grocery retail suggested veg sales are down 0.1%, despite large increased in overall sales and volumes of food and drink.
Covid-19 has exacerbated pre-existing health and dietary inequalities, with levels of food poverty continuing to rise and the looming spectre of an economic recession creating further pressure on low income households, so it's more important than ever that we keep our foot on the pedal to make sure everyone is able to access and afford vegetables.
Read the full Peas Please progress report.
Sustain are encouraging more areas to launch Veg Cities campaigns and get local businesses and organisations making veg pledges. Veg Cities is a feature campaign of Sustainable Food Places and is run in partnership with Peas Please.
09/12/2020
---