Spring has sprung in Luton this half term
During the February half term Luton families dug into three sessions centred on growing and eating more fresh vegetables, run by community charity Groundwork Luton & Bedfordshire - thanks to funding from Sustainable Food Cities, Luton Borough Council Public Health and Active Luton.
Visit the Groundwork Luton and Bedfordshire VEG CITIES local page
Luton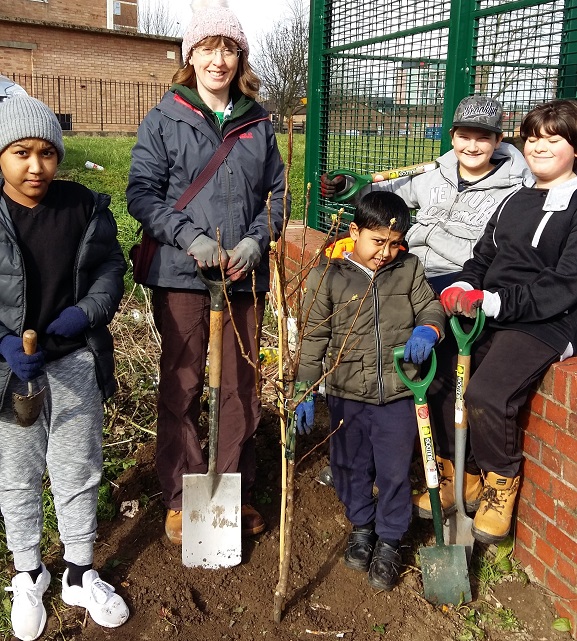 Luton families dug into sessions centred on growing and eating more fresh fruit and vegetables. Credit: Groundwork Luton & Bedfordshire
The sessions were ran as part of the Veg Cities campaign, which is helping Luton to grow, cook, share and eat more vegetables.
23 families from the Flying Start South Children's Centre in Park Town took part in the 'Green Little Fingers' activity session on Tuesday 19 February 2019. Pre-school children and their parents listened to a story about the jobs required in the garden in order to get it ready to grow vegetables. They then investigated a selection of vegetables in the activity room before walking over to the community garden. Each family worked together to add compost to the growing beds and then planted peas and bean seeds.
As part of the Total Wellbeing programme with Food Hacks, five families joined the 'Preparing for Spring' sessions on 19 and 20 February, in which the group planted fruit trees, harvested food and made healthy vegetable soup.
The families benefitted from some physical work too, by digging holes in order to plant apple and pear trees, blueberry and red currant bushes and rhubarb crowns. Parents and children prepared a healthy vegetable soup together by following a recipe in order to weigh, chop and cook the soup ready to eat outdoors around the fire.
Everyone - adults and children - benefitted from getting active in the fresh air, with the chance to learn healthy recipes and interact with other families.
One of the parents said "My son really enjoyed being outdoors and it made me think to experiment with more vegetables as he didn't know many of the basic vegetables."
One of the boys who took part said "I very much enjoyed finding out all about the vegetables that can be used to make soups."
Sustain are encouraging more areas to launch Veg Cities campaigns, and get local businesses and organisations making veg pledges. Veg Cities is currently the feature campaign of Sustainable Food Cities, and is run in partnership with Peas Please.
28/02/2019
---