A fruit and veg box for a Healthy Start voucher
GoodBox is a fruit and veg box with a difference. A charitable donation is added to each box enabling the surplus revenue of four boxes to be used to offer one fruit and veg box to families in receipt of Healthy Start vouchers. It is operated by Lean Lunch and up to 10 boxes are available each week to Healthy Start customers in Leeds.
Visit the FoodWise Leeds VEG CITIES local page
Leeds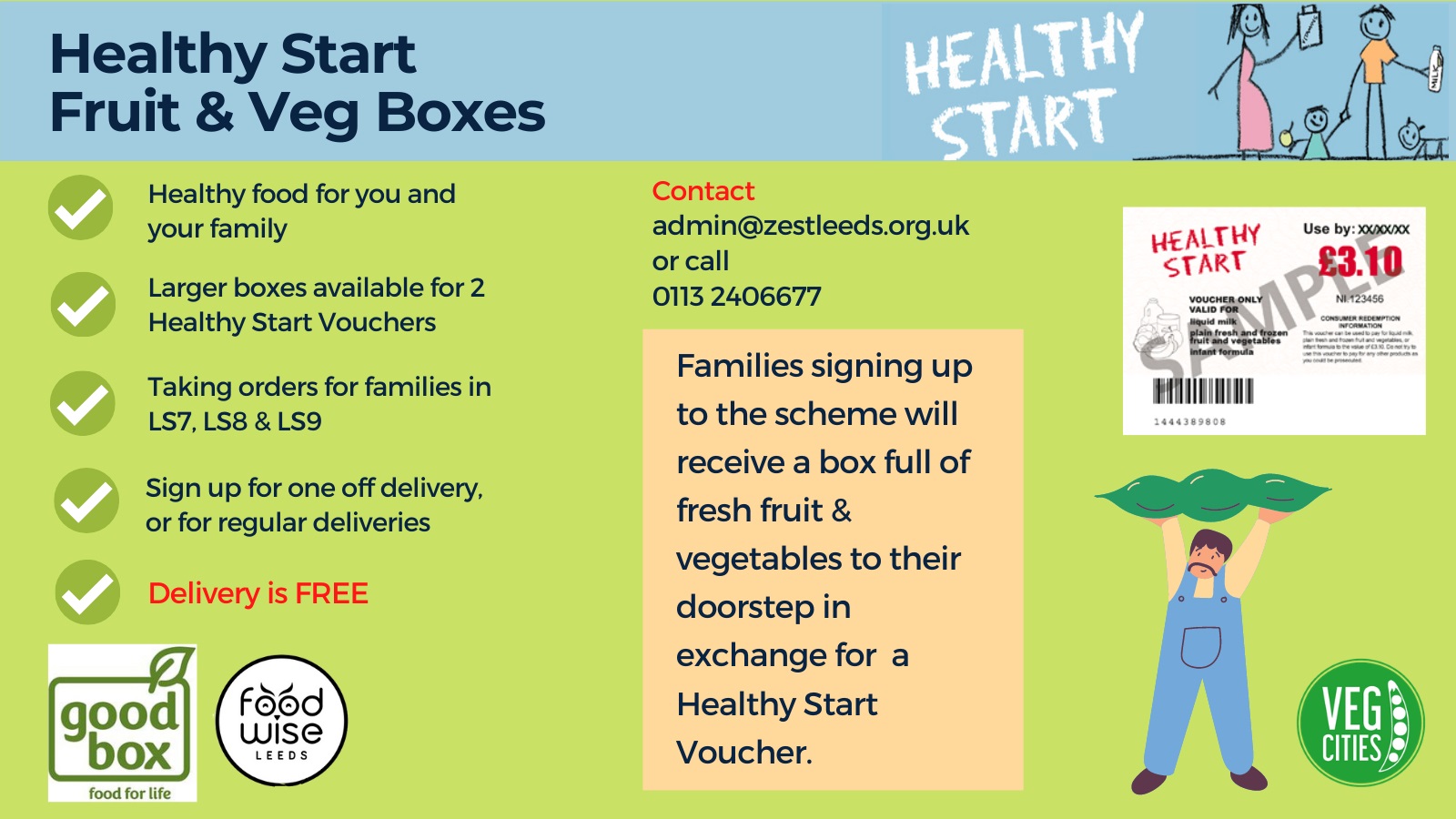 The Healthy Start scheme provides young pregnant women and low-income families with children under the age of four in England, Wales and Northern Ireland with free vitamins and food vouchers to purchase vegetables, fruit, pulses and cows' milk. As the name suggests, the scheme helps ensure children have a healthy start in life by boosting family budgets to buy healthier options. The scheme runs as Best Start in Scotland.
Increasing the uptake of Healthy Start in Leeds
FoodWise Leeds recruited a development worker in the beginning of March 2020 to improve the uptake of Healthy Start vouchers in inner East Leeds. Following the Covid-19 lockdown, plans were quickly adapted. Planned face-to-face events were cancelled and all information leaflets that have been created have been shared across the city through the 27 Community Care Hubs, which has widened the reach of the project. Another exciting development happened with the development of GoodBox by Lean Lunch.
Good Box
GoodBox is an innovative new delivery model of fresh fruit, vegetables and produce boxes supporting local north Leeds communities and independent businesses. GoodBox is available in two postcode areas in north Leeds. Produce is sourced direct from local independent Leeds suppliers, delivered free in an electric, zero-emissions van, with no plastic packaging.
The new fruit and veg box grew out of the Covid-19 pandemic which triggered isolated and vulnerable people facing practical and financial barriers to accessing fresh, healthy food. At the same time, wholesale distributors and independent producers have suffered a 70 per cent reduction in trade due to the closure of restaurants and caterers. But the pandemic has also seen an unprecedented rise in people stepping up and volunteering and donating to charities.
A Healthy Start pilot started in the Summer of 2020 with a group of families through one Community Care Hub in North Leeds and is now being rolled out across two Leeds post codes. For one £3.10 Healthy Start voucher, a family will receive £4.10 of vegetables at cost price which equates to about £7-£8 of produce at retail price. The difficulty is recruiting families to sign up to the scheme on a weekly or regular basis. Many families in receipt of Healthy Start vouchers are in temporary accommodation and might have to move house on a short notice. But for those who sign up, specially if they or other family are shielding, the boxes can be a life saver.
"Our experience with Lean Lunch makes us best placed to link those customers that require healthy food at reasonable prices to those local suppliers that have the best produce on offer, and make it easy for them to give something back. We truly want GoodBox to do good in the greatest sense of the word – by nourishing people, as well as the communities they live in." Sat Mann, Founder of GoodBox and Chairman of FoodWise Leeds.
Sustain are encouraging more areas to launch Veg Cities campaigns and get local businesses and organisations making veg pledges. Veg Cities is a feature campaign of Sustainable Food Places and is run in partnership with Peas Please.
12/02/2021
---