A little more veg? Yes, please – from Oxford
90 per cent of the local population knows about "5 a day", according to Oxfordshire County Council. Nevertheless, a recent doorstep survey in Barton from Oxford City Council found people were only eating 2.5 portions a day on average. This is against the backdrop of an urgent need to increase vegetable consumption and decrease meat consumption for our health and the health of our planet.
Visit the Good Food Oxford VEG CITIES local page
Oxford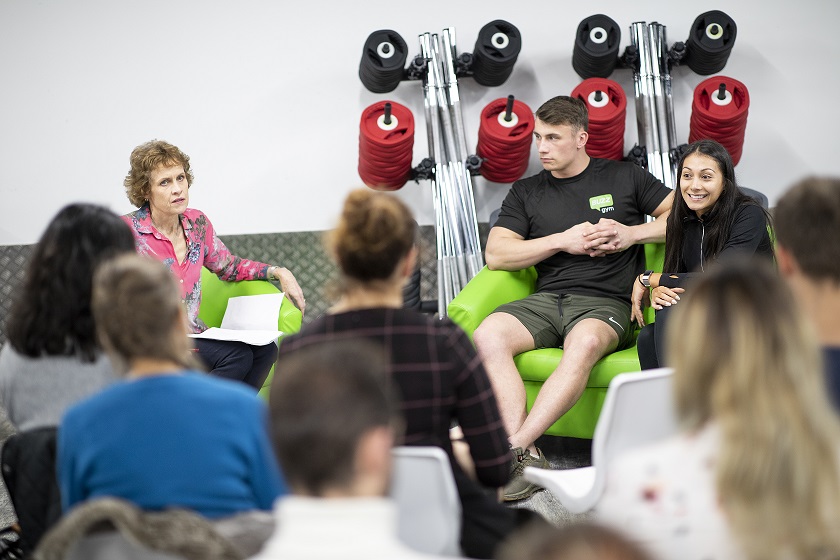 As part of the Oxford Science Festival, lead researcher, Prof Susan Jebb, facilitated a discussion around protein and performance together with Maria Reyes, a vegan personal trainer, and Joe Butler, a body-builder and meat-lover. Credit: IF Oxford
Good Food Oxford is partnering with the Livestock, Environment and People (LEAP) project from the Oxford Martin School at the University of Oxford to investigate what it takes for people to significantly change their behaviour – increasing consumption of vegetables in their diets for the long-term.
The collaboration is one of the elements of the Oxford Veg Cities campaign which kicked off this Autumn with several public appearances at the Oxford City Farm Festival and Oxford Science and Ideas Festival. Activities included:
A public engagement stand about meat's impact on the planet;
A talk on protein and vegetables with vegan bodybuilders in an Oxford gym;
A public engagement stand about tasty vegetable-based cooking;
"A little more veg" cooking sessions – one teaching recipes as standard, and one using a matrix of ingredients building participants' confidence and transferable skills.
The campaign will carry out two sets of six-week courses going in more depth into behavior change towards a more veg-based diet, particularly for those on a low income. The work will focus on low-income individuals because there are more complex barriers for people on a budget to choose vegetables.
Once these initial courses have been completed, a city-wide campaign will be launched using messages built on the findings of the small group work as well as the Veg Power campaign materials. The team will create a cooking sessions framework and behaviour change evaluation model around cooking and eating more vegetables, which will be rolled out across the city and other areas.
The campaign aims at increasing vegetable consumption by half a portion per day matched by a small reduction in meat consumption over a sustained period. As well as health benefits, each person would save 5kg of CO2e and £3.85 per week, or £200 per year according to Low Carbon Oxford.
Sustain are encouraging more areas to launch Veg Cities campaigns, and get local businesses and organisations making veg pledges. Veg Cities is currently the feature campaign of Sustainable Food Cities, and is run in partnership with Peas Please.
21/01/2019
---