Cooking without a recipe – innovative training in Oxford
Good Food Oxford ran two six-week pilot cooking courses earlier this year to empower people to eat more vegetables as part of Veg Cities Oxford.
Visit the Good Food Oxford VEG CITIES local page
Oxford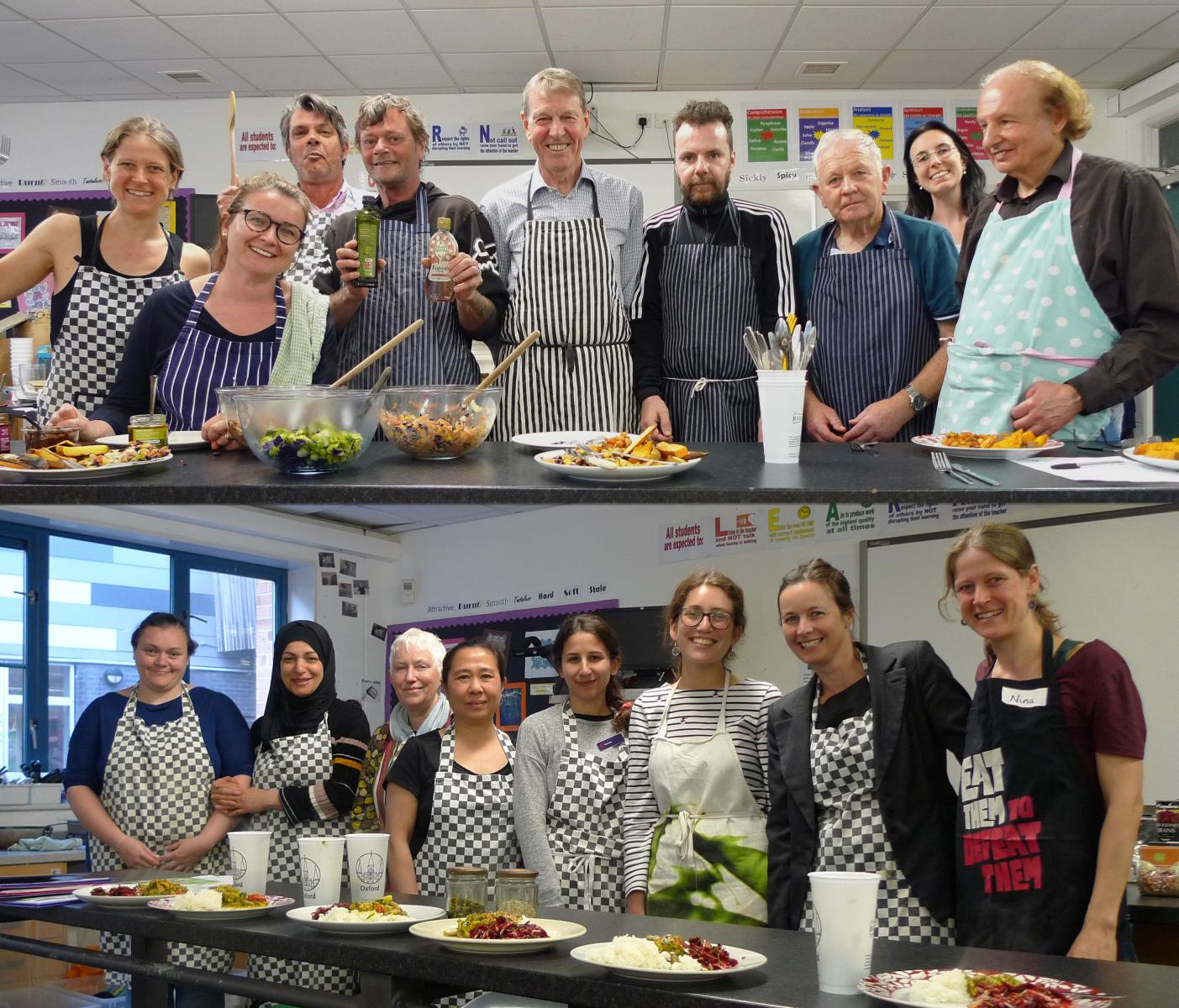 Participants in the training courses. Credit: Good Food Oxford
The pilots lead to the development of a new approach to teach cooking based on a "cooking toolkit" – a table of ingredients, seasonings and cooking methods that the user can combine freely – rather than working with fixed recipes. Participants gradually learned to work creatively with the vegetables they were given, and flavouring them in their own preferred style with a range of spices and seasoning ingredients.
The pilot cooking courses coined the Good Food Cooking Toolkit, which is now available for free in print and can be downloaded at http://goodfoodoxford.org/cooking-toolkit/
Participants remarked that cooking with recipes had often led to buying specific ingredients they then never used again if the recipe wasn't a hit. By contrast, the toolkit actively encourages the user to take available ingredients – whether they come from a community fridge, a seasonal veg box or are left over in the fridge – as a starting point and think creatively about what to do with them.
One of the two courses was aimed at parents and carers of school-age children. The main challenge that participants faced at home revolved around how to get the kids to eat their vegetables, especially when they all have their own preferences. A key learning for this group was to develop more ideas and the confidence to experiment with different variations on familiar vegetables. For instance, just because a child doesn't like carrots in a stew doesn't mean they might not like them raw, grated, steamed or roasted. A skill-share activity during which all participants shared what they had already tried and what worked well with their kids gave everyone some new ideas on what to try next.
The second course, entitled "Know Your Onions", was aimed at older men, some of whom reported to rarely cook any meals from scratch at all, and most of whom never got to eat five portions of fruit and veg a day. For them, the biggest learnings included developing more confidence in basic cooking skills, having a space to try them out, and getting ideas for trying new vegetables and flavours. Some of the surprising insights included that butternut squashes can in fact be chopped up without a chainsaw, and that potatoes can be turned into tasty chips in your own oven.
All participants got to take home some vegetables at the end of each class and shared in the next session what they had cooked up with them at home.
In both groups, participants were more open to the idea of putting vegetables centre-stage on their plates after the course than before. They also came out of the course feeling more courageous about trying new dishes with vegetables at home. Many were surprised how much their families and friends liked what they brought home or cooked since starting the course.
The Good Food Cooking Toolkit is now available to be used by other cooking course tutors along with the Cooking Course Framework, a useful resource for planning and implementing cooking courses that was previously developed by Good Food Oxford.
Passionate cooks and cooking teachers who are eager to start teaching with the Good Food Cooking Toolkit across Oxford and Oxfordshire are invited to contact Nina Osswald on mail@goodfoodoxford.org
Good Food Oxford are planning to start training a group of regular cooking course tutors who can deliver classes for various audiences across Oxford and Oxfordshire in the next few months.
Sustain are encouraging more areas to launch Veg Cities campaigns, and get local businesses and organisations making veg pledges. Veg Cities is currently the feature campaign of Sustainable Food Cities, and is run in partnership with Peas Please.
16/07/2019
---