Fighting food insecurity from the ground up
Harvest @ Home is a new Oxfordshire-based community group Harvest and the newest participant in the Oxfordshire Veg Cities campaign. The group gives people basic tools, support and encouragement to get into gardening and grow their own produce at home.
Visit the Good Food Oxford VEG CITIES local page
Cherwell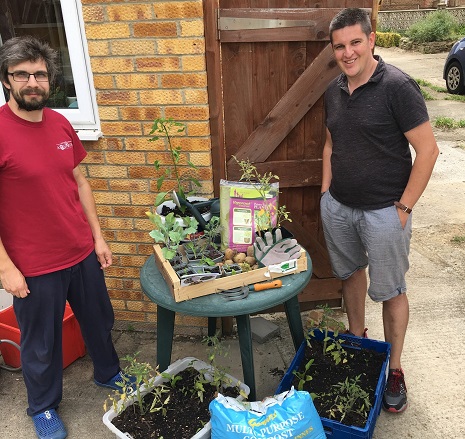 John Puplett (left), founding member, and David, home harvester. Harvest @ Home provide a variety of mini gardens as well as pre-planted seedlings in "trash to treasure" pots.
Harvest @ Home are in their first season, and have so far provided over 50 "just add water" pre-planted starter kits with seasonal fruits and vegetables ready to get people growing. They have given out dozens of potato kits, which include all that is needed to get a small harvest of spuds in autumn, as well as over 120 "Kid's Kits" with seeds, seedling pots and some tools to local households. Raised beds were provided to 12 households and plants in smaller pots to a further 20 households. The initial first focus is to supplement the diets of people who are struggling due to Covid-19, with a longer-term goal of spreading the personal and environmental benefits of gardening more widely into the local community.
Harvest @ Home isn't just about the harvest. It's about living cleaner, greener, and better. The group facilitates home composting by distributing printed composting guides made by Replenish Oxfordshire and they have given out our home composters so far, with a further 15 slotted for delivery soon. Through Harvest @ Home, users have access to Co-Grow, a gardening community group for exchanging expertise with other gardeners and local sustainability-oriented groups. The group are especially excited to team up with the Oxfordshire Community Action Groups (CAG Oxfordshire) initiative "Collaborate Group Trees" and have pledged to plant 500 fruit trees in private spaces this autumn.
Harvest @ Home work with MIND and other mental health charities to provide gardens as activities for health and well-being, particularly when people are finding themselves confined due to Covid-19. The personal benefits of gardening for participating households are already visible. Many of the gardeners have shared how gardening has improved their mental and emotional wellbeing, improved their exercise routines, and encouraged them to spend more time outside. As part of the Good Neighbour Scheme, Harvest @ Home give practical support to over 60 per cent of their users who are complete beginners to gardening. The initiative also helps educate families and provide them with tangible activities such as coming together to plant potatoes, watering the garden, watching seeds grow and learning about food growing and vegetables.
While it's difficult to grow ALL the vegetables a family needs in their garden, it is feasible to provide a healthy portion of home grown produce year-round. Harvest @ Home are now dispensing autumn harvest vegetables (e.g. brassicas, perpetual spinach, chard) and looking ahead to winter greens.
Harvest @ Home is a member of Community Action Groups Oxfordshire (CAG Oxfordshire) and has partnered with the local Sustainable Food Places initiative Good Food Oxford running the Veg Cities Oxfordshire campaign. Groups and individuals in Oxfordshire can visit http://harvestathome.uk to find out more about getting involved, sign up to receive kits, donate or volunteer. And you can follow them on Twitter @HarvestatH and like them on Facebook.
Sustain are encouraging more areas to launch Veg Cities campaigns and get local businesses and organisations making veg pledges. Veg Cities is a feature campaign of Sustainable Food Places and is run in partnership with Peas Please.
14/07/2020
---