Wasteless suppers bring new businesses to the table
Three Wasteless suppers have taken place in the Welsh capital of Cardiff, preserving, pickling, cooking and serving around 261 kilos of food and feeding 155 guests and volunteers.
Visit the Food Cardiff VEG CITIES local page
Cardiff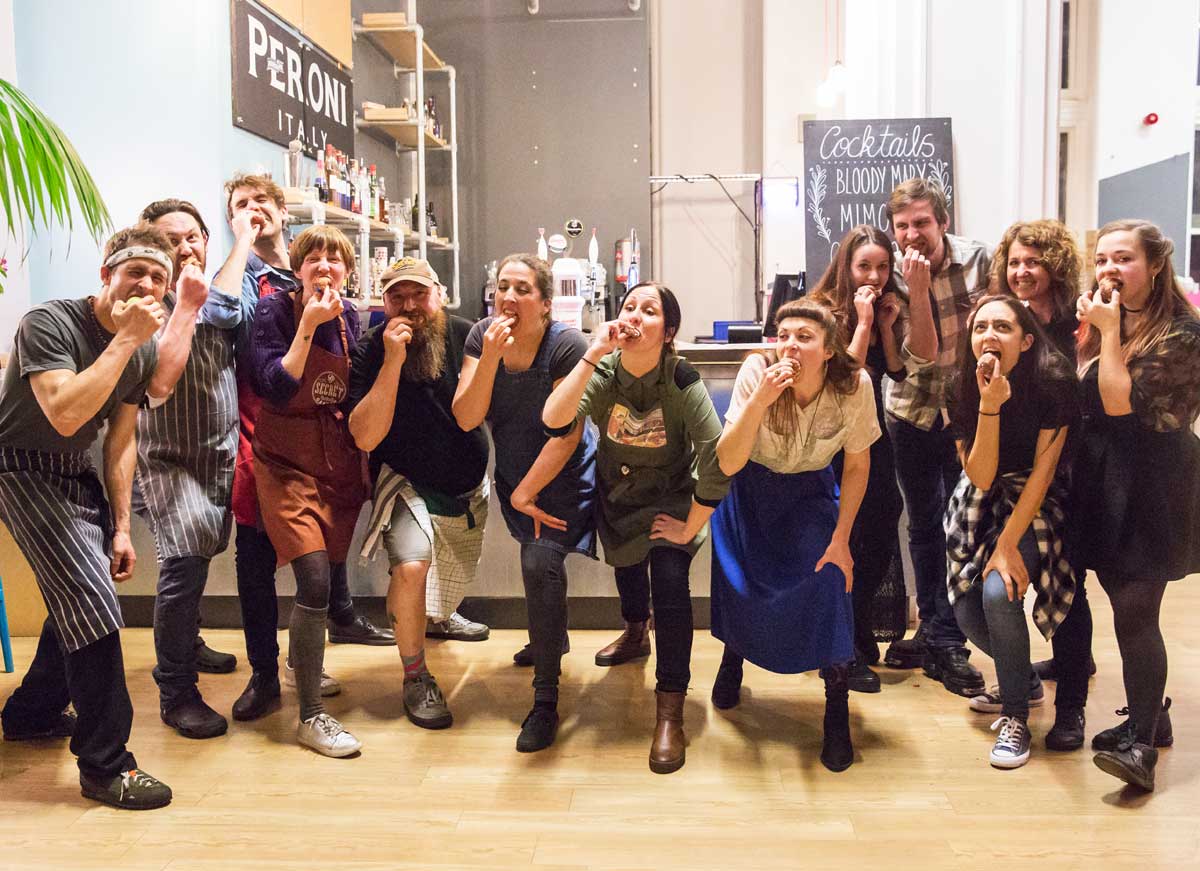 The Wasteless Team. Credit Suzie Larke Photography
Wasteless is a collaborative platform where food businesses get involved to deliver feasts using food surplus, food that would have been wasted and food that is produced in a less wasteful manner. It was initiated in 2017 by Food Cardiff members Lia Moutselou (Lia's Kitchen) and Rebecca Clark (Green City Events).
Wasteless builds from the work Lia and Rebecca have been doing together on food waste reduction projects through community cook ups with food destined for the bin, roadshows, school lunch clubs and pop up street food stalls, in collaboration with Love Food Hate Waste campaigns and other local partners. It's a platform to help local businesses tap into their creative and sustainable practices and to showcase elements of Cardiff's existing and emerging 'wasteless' food movement as well as to bring new businesses to the table to inspire and be inspired by them in taking a wasteless approach.
Wasteless also aims to bring crowds to the table inspiring and educating them about the potential of food they may waste and informing them about ways to be savvier at home. The events have been much more than a meal with guests, engaging people in discussions about their environmental footprint, leaving more empowered after having shared knowledge and ideas on their journey to becoming wasteless.
The project joined Cardiff's Veg City campaign early on to help support people and businesses to eat their veg not waste it.
Why food waste?
'Food waste is bad business practice - akin to throwing money in the bin. It's unsustainable for future generations, and breeds bad habits in an already throwaway society', says Melissa from the Penylan Pantry. 'Being part of Cardiff's Wasteless dinners was a huge honour and a very exciting prospect, working with others to help raise awareness, offer support and encourage businesses, and the public to think differently about food waste.'
The Suppers
Three Wasteless suppers have taken place in the Welsh capital of Cardiff so far, preserving, pickling, cooking and serving around 261 kilos of food and feeding 155 guests and volunteers. The food was collected in the weeks prior to the events, then safely handled, stored, distributed and cooked by the participating chefs/businesses and volunteers to offer five-course feasts transforming food surplus into a fine dining experience. All participating chefs and cooks helped develop the menu as collections went along with a lot of last minute adaptations.
Jan's (Anna Loka) recipe of mixed vegetable rostis with a butternut squash sauce and crisp fried greens (a great use for wilted greens) inspired a lot of our diners to go home and look at their vegetable draw twice before clearing it up. Penylan Pantry's starter balls mixing various vegetable, fish and meat into delicious bites showed people you don't need much to create an impressive party platter. Lia's Kitchen also demonstrated how to make the most of seasonal resources through her new-found, personal obsession with dehydration, pickles and pickling methods from around the globe.
The Wasteless suppers have involved a range of food businesses with different practices and business models. In total, 18 Wasteless partners to date have prepared, donated food and hosted the suppers - a number that has by far exceeded Lia and Becca's expectations.
Celine Anouilh from the Chartered Institute of Waste Management in Wales said, 'I really enjoyed WasteLess dinners raising awareness of food waste. Lia and Rebecca used the right ingredients to produce a tasty meal and an inspiring event: a partnership between enthusiastic and ethical businesses, forgotten food from super markets shelves, great cooking skills, creativity and passion! I ate a delicious meal, and met wonderful people"
Much of the food donated by retailers was mixed vegetables past its best before date. Meat is the 'guest' and when it's present it's often the lesser known cuts and types of meat such as mutton, inspiring people to make the most of vegetables and the offer aisles to help contribute to waste reduction and save money.
Wasteless was a finalist for the Cardiff Life Awards in the first six months of its life and has received much attention from the public and the media. The question the project keeps getting is: when is the next Wasteless happening?
20/06/2018
---