Social Enterprise increases access to fruit and veg during lockdown
Doric for "Veg around the town", Vegaroonitoon was designed as a social enterprise initiative which offers fruit and vegetable boxes to individuals and households in and around Aberdeen City.
Visit the Community Food Initiative North East VEG CITIES local page
Aberdeen City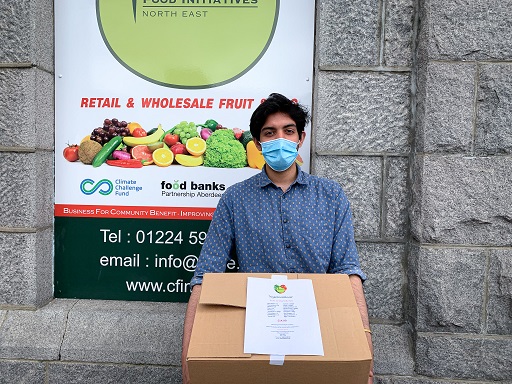 Credit: Community Food Initiatives North East
During lockdowns, demand for foodbanks and emergency food raised rapidly, shopping habits moved online, became less frequent and restricted to essential items. For Community Food Initiatives North East (CFINE), one solution to these issues was 'Vegaroonitoon', an online, contactless fruit and veg box service which ensured the availability of a wide range of fruit and vegetables in a readily accessible and affordable way, whilst minimizing impact on the environment and promoting healthy eating.
The process was kept simple. Customers were simply required to complete an online request form, outlining which box they would like (small, medium, large, or extra-large; designed to provide fruit and vegetables for households of all sizes), and payment and delivery would be arranged from that point; a completely covid-safe system.
Beyond the pre-designed boxes, a 'pick your own' service was also offered, allowing customers to tailor boxes to their own needs by choosing from the wide selection of fruit and vegetables available.
Launched in May 2020, 2,669 boxes were delivered to the end of April 2021, providing fruit and vegetables to around 300 individual customers. What's more, the process of fulfillment was consistently environmentally conscious, from the use of recyclable packaging to the fleet of electrically-powered cargo bikes used for delivery, where possible.
Through the COVID-19 lockdowns, Vegaroonitoon demonstrated how resilience and adaptation minimised the impact of the pandemic on the access to fruit and veg across Aberdeen City.
Sustain are encouraging more areas to launch Veg Cities campaigns and get local businesses and organisations making veg pledges. Veg Cities is a campaign of Sustainable Food Places and is run in partnership with Peas Please.
08/06/2021
---