Plant-based cooking competition reaches a sweet end
As part of Veg Cities Aberdeen, Community Food Initiatives North East (CFINE) ran a competition to find the best home-cooked healthy meal creations. The five winners won a plant-based cooking class with Nikki Makaronas from the pop up café The Liberty Kitchen based in Aberdeen's beach front.
Visit the Community Food Initiative North East VEG CITIES local page
Aberdeen City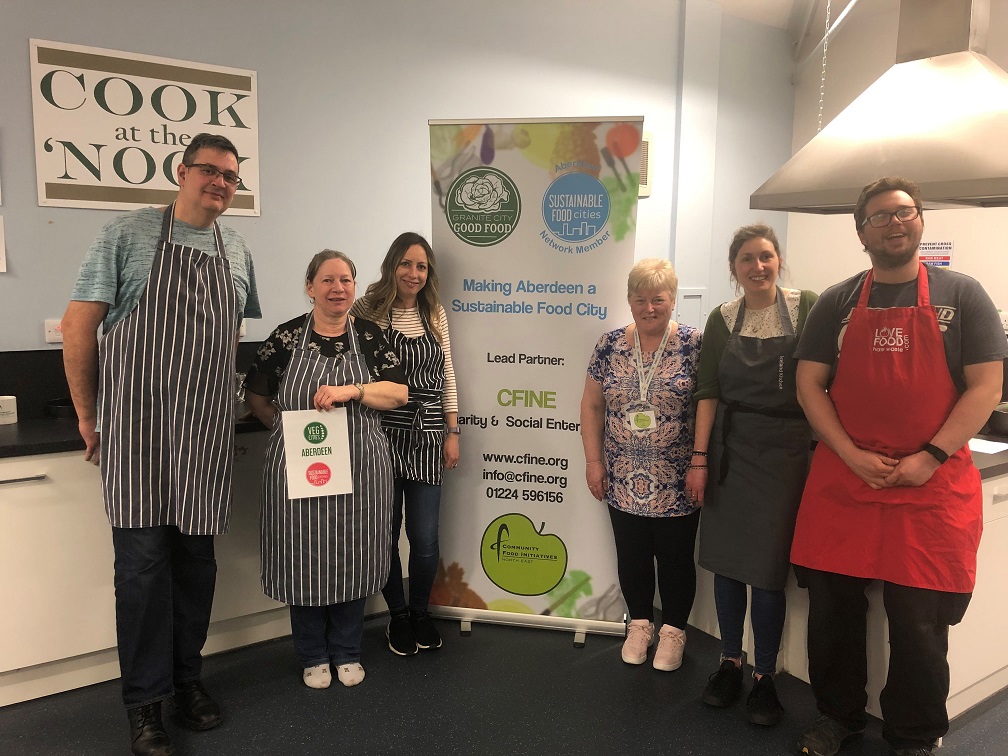 Credit: CFINE
The class took place at CFINE's Cook at the Nook, a community training kitchen that offers classes such as 'Cooking on a budget' to community groups and organisations, runs SlimFine health and wellbeing programme and offers catering for events. The latest addition is Tuk In, a pop up catering service and café around Aberdeen serviced by an electric tuk tuk, providing a unique, affordable, fresh and healthy catering service.
The five winners enjoyed a three-hour cooking class with a menu of baba ganoush, sweet potato and chickpea stew and a cardamom rice pudding. It was a fun new experience for all the participants who discovered new ways of transforming vegetables into delicious creations.
"The class was amazing because I wouldn't have thought about cooking only with vegetables or about putting those ingredients all together but I think it turned out really nice." Jane, winner of plant-based cooking competition.
Sustain are encouraging more areas to launch Veg Cities campaigns, and get local businesses and organisations making veg pledges. Veg Cities is currently the feature campaign of Sustainable Food Cities, and is run in partnership with Peas Please.
19/03/2019
---