Overhaul of children's menus in Cambridge restaurants
The nine restaurants of Cambscuisine restaurant group have done a complete overhaul of their children's menus to include at least two portions of vegetables in every meal and new vegetarian and vegan options.
Visit the Cambridge Sustainable Food VEG CITIES local page
Cambridge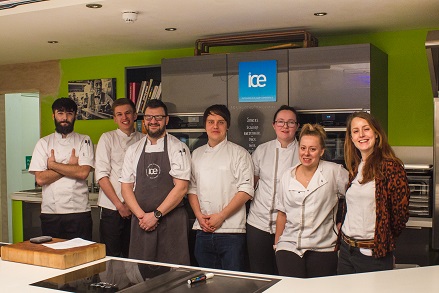 CambsCuisine chefs competed to find the best plant-based dishes. Credit: CambsCuisine
The restaurant group worked with Cambridge Sustainable Food and the pledge comes under the Veg Cities Cambridge campaign. Changes to the menus include:
– raw veg pots as a starter
– swapping fries/chips for sweet potato wedges/ vegetable mash
– serving more green vegetables as part of each meal
– banana & soy milk smoothie instead of milkshake
– fresh fruit option for pudding
– free fruit bowl for kids at the weekends, half terms and school holidays
– vegetable word searches and colouring-in activities on the menus
The restaurants serve an average of 28,000 kids' meals a year so this will result in an additional 42,000-56,000 portions of vegetables a year being served in Cambridge restaurants.
To gather some honest feedback on the changes the group offered KIDS EAT FREE at all the restaurants during February half term (18th – 24th February 2019) for children aged 12 or under when accompanied by an adult ordering a main meal. The feedback was overwhelmingly positive with parents and children loving the veg pots as they provide something fresh and crunchy to snack on and something to keep the children occupied when the parents are ordering their own food. A few parents commented on how pleased they were to have veg which wasn't overcooked, and to have a fruit option prepared fresh to order.
The restaurant group is also engaging their chefs in the campaign with a view to become a more sustainable business. In February 2019, the group held a chef competition to find the best plant-based main course and desert. The competition took place at Infusions ICE Kitchen in Bury St Edmund's with judges Lee Cooper (Infusions), George Allan (CDC Events) and Gemma Birley (Cambridge Sustainable Food). George Dawkins & Reece Alderson (The Tickell Arms) wowed the judges with their 'Vegan Chocolate Mousse with Cherry Textures'. Runners up, Gemma Steele and Holly Silk (The Crown & Punchbowl), also impressed the judges with their 'Sweet Potato Gnocchi' main course. Both dishes will be featured on their restaurant's spring menus.
Sustain are encouraging more areas to launch Veg Cities campaigns, and get local businesses and organisations making veg pledges. Veg Cities is currently the feature campaign of Sustainable Food Cities, and is run in partnership with Peas Please.
27/03/2019
---