Community Food Hubs taking root in Luton
Three new Community Food Hubs are running in Luton, set up by Groundwork Luton & Bedfordshire as part of the Luton Veg Cities campaign and Luton Food Poverty Alliance. Local residents come together for weekly community sessions where they get involved in growing food, cooking and eating.
Visit the Groundwork Luton and Bedfordshire VEG CITIES local page
Luton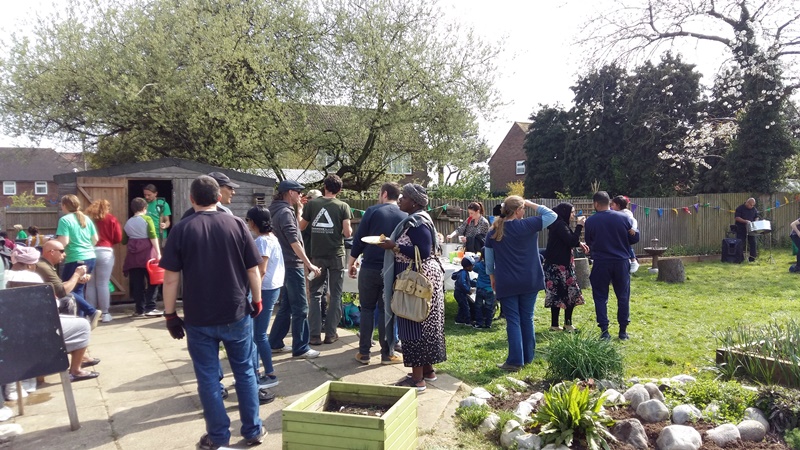 Big Dig Day at Farley Food Growing Hub. Credit: Groundwork East
Community charity Groundwork Luton & Bedfordshire (part of Groundwork East) developed the concept of Community Food Hubs which are promoting a 'Fork to Fork' model. Communities get involved in growing, cooking and eating together, leading to higher consumption of fresh fruit and vegetables, particularly amongst communities at risk of or experiencing food poverty.
Strathmore Food Growing Hub has several raised beds and a long open bed for planting fruit and vegetables and has recently seen the installation of a tap, a path and four new growing beds during March and April 2019.
Farley Food Growing Hub is a community food growing hub and kitchen located at the back of the St. John the Baptist church.
Memorial Park Hub is a space with several raised beds ready for planting.
Since the start of the Veg Cities campaign, Groundwork has engaged 200 new participants in the Community Food Hubs, through initiatives such as Total Wellbeing Luton programme, Food Hacks group, Green Skills group, Flying Start South family group and the Big Dig Day.
A Big Dig Day event took place in Farley Food Growing Hub to introduce local residents and organisations to the community garden and to launch the growing season. Around 80 people participated in the event including local residents, the High Sherriff, Groundwork staff and guests from British Red Cross, St John the Baptist church, Signposts, The Feast, Flying Start Children's Centre, Luton Borough Council, Grand Union Housing Group, Dell Farm, Citizens Advice, Total Wellbeing, Edible Hightown, and Farley Big Local. There was potato and strawberry planting as well as vegetable kebabs, garden games and the music of the Revellers Steel Band.
Sustain are encouraging more areas to launch Veg Cities campaigns, and get local businesses and organisations making veg pledges. Veg Cities is a campaign of Sustainable Food Cities, and is run in partnership with Peas Please.
01/05/2019
---