Fun vegetable characters join rainbows in windows across Leeds
A campaign to encourage families and young people to eat and grow more vegetables sets roots in lockdown.
Visit the FoodWise Leeds VEG CITIES local page
Leeds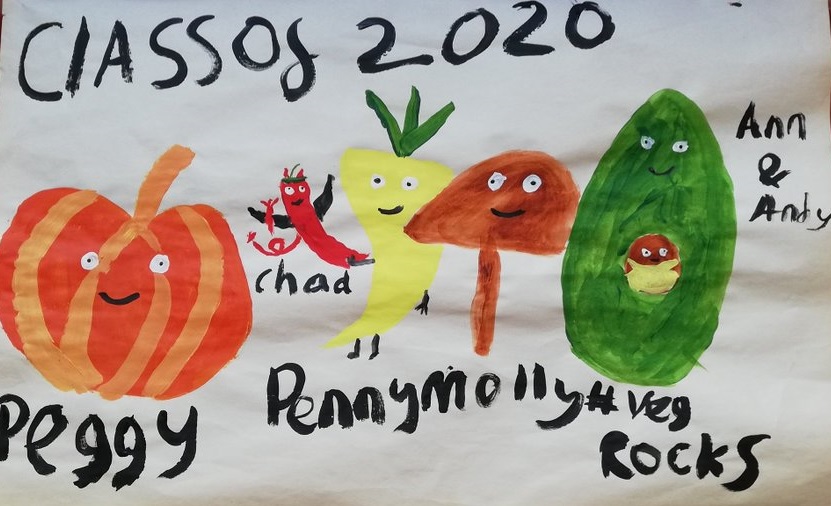 Foodwise is among 13 other food partnerships that received funding from Sustainable Food Places to run a local Veg Cities campaign in the beginning of 2020. Plans to increase the amount of vegetables in the local Healthy Holiday scheme, start a Healthy Start voucher pilot project and build a team of Veg Ambassadors to share knowledge and skills had to be postponed after the outbreak of coronavirus and social distancing regulations. Plans to engage children and communities via activities in schools and events were also hampered but Foodwise came up with a solution to continue engagement in lockdown.
Foodwise created the #vegrocks competition inviting youngsters to draw their favourite vegetables, turning them into fun characters, and to display them in the window like people have with NHS rainbows and share on social media using the hashtag #vegrocks.
The competition ran until Monday May 18 and prizes include veg boxes of locally grown veg and microgreens growing kits from Growing Better CIC delivered to their door.
Sonja Woodcock, co-ordinator of FoodWise Leeds said: "The #Vegrocks Poster Competition is a great way for families during lockdown to engage in a fun craft activity that celebrates the goodness of vegetables. Through the generous sponsorship from local councillors, FoodWise will be awarding 50 vegboxes to contest winners."
Dom Charkin, operations manager for Zest, who works closely with the food partnership, added: "It's a fantastic idea. Since lockdown began we have been offering distance support to everyone who attends our groups, and one thing that has come through is that people are struggling to lead busy lives and home-school their children. The #VegRocks campaign gives the children an activity to do at home and also gets families thinking about the importance of eating more vegetables and how best to make use of the food in their fridges."
Sustain are encouraging more areas to launch Veg Cities campaigns and get local businesses and organisations making veg pledges. Veg Cities is a feature campaign of Sustainable Food Places and is run in partnership with Peas Please.
26/05/2020
---