New study on Healthy Start shows low uptake and low levels of awareness in Cardiff
Shopping observations and research on awareness carried out by Food Cardiff conclude that a lot more needs to be done to support retailers in the implementation of the Healthy Start voucher scheme and front line staff in the promotion of the scheme.
Visit the Food Cardiff VEG CITIES local page
Cardiff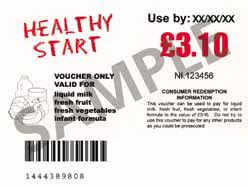 The main findings of the study include:
In Cardiff alone over £300,000 worth of Healthy Start vouchers are left unclaimed by those who would benefit from them
Around 40% of people eligible to claim Healthy Start vouchers in Powys don't take up the benefit
58% of retailers accepted vouchers for products not included in the Healthy Start Scheme
No retailers visited were visibly advertising the scheme
Knowledge and understanding of the scheme by frontline staff is low
There was no advertisement of the scheme in any of the retail establishments visited and awareness of the Healthy Start scheme in front line services is patchy. Three areas were identified to improve the awareness of Healthy Start among the money advice service in Cardiff Council:
Training all money advice staff at Cardiff Council and the possibility of working with other agencies to do the same (e.g. Citizens Advice).
Introducing a Healthy Start question during client interviews if parents are eligible to claim Free School Meals for their children and/or they have children under the age of 4 or are pregnant.
Developing some resources to signpost clients to the Health Start scheme.
Food Cardiff is running a local Veg Cities campaign and working with the Food Power programme to address the issues and challenges raised by this report. The findings have been presented to the Welsh Government who have sent the report onto the Department for Health and Social Care with a series of questions.
Sustain are encouraging more areas to launch Veg Cities campaigns, and get local businesses and orgnisations making veg pledges. Veg Cities is currently the feature campaign of Sustainable Food Cities, and is run in partnership with Peas Please.
24/10/2018
---