From smoked chard to candy beetroot, greens take centre stage at Glasgow's Chef Challenge 2020
Glasgow's best chefs went head-to-head for the third year to prepare the best dishes from locally grown vegetables under the watchful eye of head judge Gary Maclean, Masterchef the Professionals winner and Scotland's national chef.
Visit the Glasgow Community Food Network VEG CITIES local page
Glasgow City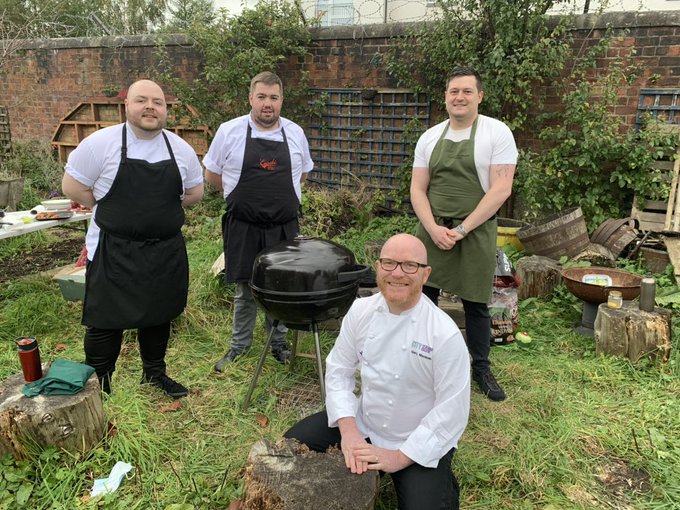 Credit: Cate Devine, twitter
The Masterchef-style cook-off is organised by Glasgow Community Food Network as part of the Veg Cities Glasgow campaign. It is now in its third year but for the first time took place in the open air due to Covid-19 restrictions. A barbecue and two camp fires erected at Greenheart Growers market garden in Tollcross replaced the professional stoves at City of Glasgow College, where it normally takes place.
The tree finalists Keir Irvine of Le Petit Cochon, Robbie Kirkman of Eusebi's and John Traynor of the Undercover Dinner Society where selected from nine rival competitors and had to create new dishes from a mystery box of city-grown produce.
Produce was supplied by a range of growers from across the city including the Springburn food hub, Maryhill community garden on a former whisky bond site, St Paul's Youth Garden at Blackhill's Growing in Provanmill and a hydroponic growing space in an old railway arch in Tradeston.
John Traynor the Undercover Dinner Society won the challenge with a Ayrshire potato and apple porridge and three-vegetable kebab. His dessert of apple and celeriac sponge, sweet cicely custard and crystallised blackcurrant leaves was deemed "as good if not better than anything you'd eat in a Michelin-starred restaurant in London" by Maclean.
This year's event runs alongside the public consultation on the Glasgow City Food Plan, the first of its kind in Scotland. Backed by Glasgow City Council and NHS Greater Glasgow and Clyde NHS Board among others, it aims to help Glasgow in its commitment to become carbon neutral by 2030 and to make healthy, affordable food accessible for everyone living and working in the city.
A major restriction is the lack of growing space for greater volume and diversity. Food deserts and food swamps persist, and there are concerns that while the city's restaurants are celebrated, local food growing is not. Glasgow currently has three market gardens, around 90 community gardens and growing spaces and 32 allotments sites. Yet two-thirds of the population reports eating fewer than five portions of fruit and veg a day, and 12% report eating none.
Glasgow Community Food Network want more growing spaces on the city's 1,300 hectares of vacant and derelict land across 925 sites and for public services to buy and sell healthier and more sustainable food and support local businesses.
The Veg Cities Chef's Challenge also chimes with the ambitions of the UN Climate Change Conference (Cop26), postponed because of Covid-19 pandemic and rescheduled to be held in Glasgow next November.
Grant Rekkie, Veg Cities Glasgow Campaign Lead added:
"The chefs challenge is about showing what Glasgow, a city not often associated with good diet, is already doing. This "dear green place" can and does produce amazing vegetable ingredients every year, and we want our chefs to inspire every citizen to make the most of that bounty. It's framed as a competition but it's about collaboration - between growers and chefs, facilitated by organisations like Glasgow Community Food Network that want to connect our increasingly urban lives with understanding of where food comes from."
Sustain are encouraging more areas to launch Veg Cities campaigns and get local businesses and organisations making veg pledges. Veg Cities is a feature campaign of Sustainable Food Places and is run in partnership with Peas Please.
20/10/2020
---