VegFest crowns Veg Cities Cambridge campaign
Cambridge Sustainable Food organised and ran the Cambridge VegFest from Saturday 13th to Sunday 21st July. It was a city-wide celebration of local and seasonal vegetables, bringing people together to grow, cook, eat and enjoy delicious veg. The festival also inspired people to eat more veg and less meat and dairy to reduce their impact on climate change.
Visit the Cambridge Sustainable Food VEG CITIES local page
Cambridge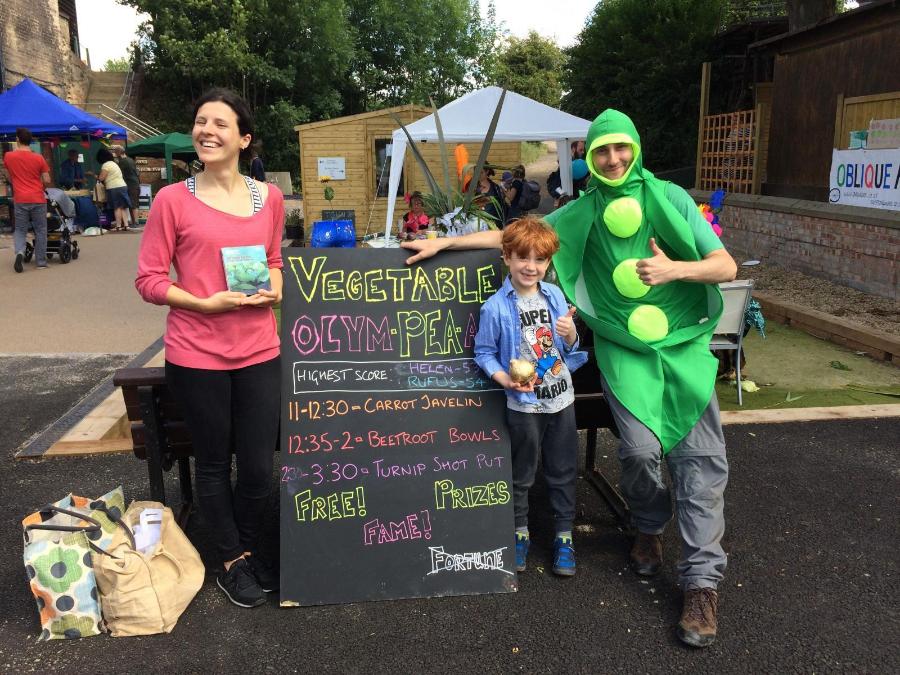 The Veg Olym-pea-d included carrot javelin, beetroot bowls and turnip shot-put. Credit: Cambridge Sustainable Food
VegFest 2019 was a huge success – the grand finale to the year-long Veg Cities Cambridge campaign, funded by the Cambridge City Council and a Veg Cities grant from Sustainable Food Cities. It attracted nearly 3,400 people and 41 organisations were involved in delivering the programme.
VegFest started with a tasty allotment cookery tour, visiting Victoria Homes, Whitehill Cyrenians and Rock allotments to sample some delicious, freshly picked plant-based dishes. Sam Dyer and Alex Collis cooked up a beetroot salad and home-made gnocchi with fresh greens, whilst Tristan Welch treated participants to crushed broad beans on toast with rhubarb and cider vinegar dressing and edible flowers. It was a great day learning all about allotments, growing your own veggies and how to make delicious food from fresh ingredients.
Throughout the week, many exciting events happened around the city. From an open morning at Rock allotments, to being organic farmers for the day thanks to CropShare, to community meals at The Edge Cafe, FoodCycle, Clay Farm Community Garden and Empty Common Community Garden and to The After School Club growing a Mini Mobile Vegetable Garden, there was vegetable fun for all.
A special thank you to The Three Horseshoes, The Waterman, The Old Bicycle Shop, The Petersfield, The Cambridge BrewHouse, The Wandering Yak, Kura Kura, Nanna Mexico and Stem + Glory for creating veggie-inspired menus and dishes, showcasing the diversity of vegetables.
Participants had a fantastic day at the newly revamped Cambridge Museum of Technology and Othersyde, celebrating the final day of VegFest and Cambridge's diverse food scene.
A farmers' market showcased the best local food growers, makers and bakers in Cambridgeshire and a free town meal featured dishes from around the world. It was a full house for the free town lunch. With food from Rosie Sykes, Smithfield gastro-pub entrepreneur, cooking Fideua (Catalan pasta/paella), from Luthfa, who cooks for the City Council's Holiday Lunches, cooking traditional Bangladeshi dishes; kidney-bean, chickpea, new potato curry rice and bhajis and from Abdul of Al-Amin Stores, Mill Road's local emporium, making fresh falafel, pitta, salad and sauces. Thanks to Oblique Arts' 'Veg-Head' art installation which helped everyone to get creative.
The benefits of this kind of event live well beyond the event itself. The relationships and collaborations developed between the organisations involved in delivering the programme will continue, facilitated by Cambridge Sustainable Food, the local food partnership. Some of the special menus and events proved so popular they will continue beyond the Fest, for example Cambridge Brew House's special vegan menu proved so popular they retained the menu after the VegFest week.
See full details and pictures here and visit https://www.vegcities.org/local/cambridge/ to know more about the Veg Cities Cambridge campaign.
Sustain are encouraging more areas to launch Veg Cities campaigns, and get local businesses and organisations making veg pledges. Veg Cities is currently the feature campaign of Sustainable Food Cities, and is run in partnership with Peas Please.
04/09/2019
---