A milestone for School Fruit and Vegetable Scheme and British grown produce
In September, 2.3 million primary school children in England ate Norfolk grown radishes as part of the School Fruit and Vegetable Scheme. This was the first-time radishes were included in the program.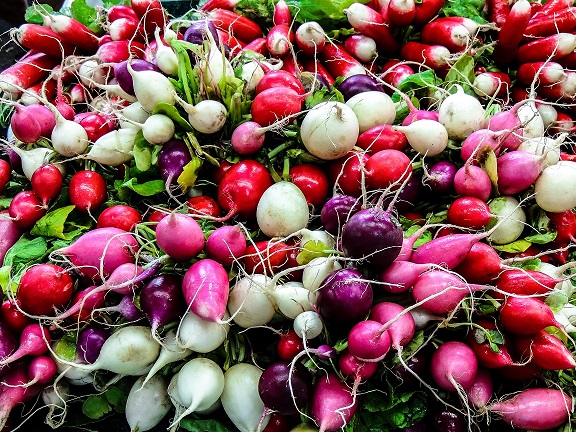 Photo by Philippe Collard on unsplash
100% of radishes and carrots in the scheme are British but a much smaller proportion of apples and pears served to children are grown in Britain. Sustain is campaigning for the extension of the scheme to all children in publicly funded primary schools in England alongside the re-specification of the product so more British grown produce makes its way into the classrooms. This is one of five calls to action to Government to improve children's health and access to good food in the Comprehensive Spending Review.
Take action and ask your MP to call on the  government to invest in children's health
To support the introduction of radishes to the School Fruit and Vegetable Scheme, UK radish growers have created a range of radish based educational materials for KS1 pupils.
The traditional British radish has long been a salad staple but is more familiar in the salads of parents and grandparents. However, in recent years improvements in growing and consistency in taste and flavour has meant that radishes have found their way onto the healthy snacking agenda. The School Fruit and Vegetable Scheme gives children the opportunity to try different fruit and vegetables that they might not get the opportunity to try at home so it will be first time many children will be trying and enjoying radishes.
In recent years radish has seen something of a market revival with one third of UK households buying radish from the supermarket. At typically 60p for a 240g pack, radish is one of the most cost-effective ways to make your way into one portion of your 5-A-Day.
British grown Radishes are available from St Georges Day in April through to the end of October (weather dependant).
Remember, radishes are small and crunchy, best eat slowly. Don't eat while running!
07/10/2020
---