Share your experiences supporting families with No Recourse to Public Funds to access food
Calling all local food and health organisations and professionals: please share your experiences supporting families on low incomes with no recourse to public funds to access healthy food, including the Healthy Start Scheme. Survey deadline 13 October.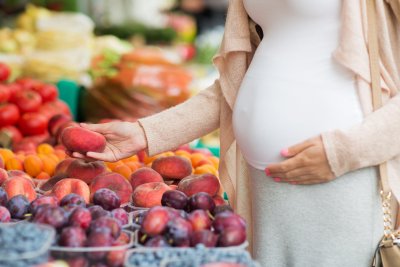 Pregnant woman shopping for fruit. Copyright: Ground Picture | shutterstock
If you're a local health professional, council or community worker, or volunteer working on the frontlines supporting families on low incomes with No Recourse to Public Funds, this survey is for you.
Complete our survey by Friday 13th October. It should take approximately 10 minutes.
Sustain is seeking to understand the experiences of families on low incomes with No Recourse to Public Funds (NRPF) in accessing nutritious food in pregnancy, for their babies and young children, including accessing Healthy Start payments where they are eligible. The survey can be completed by any local health or community professional or volunteer working directly with families on low incomes, such as council staff, perinatal and early years health professionals (including midwives and health visitors, emergency food charities and other community groups, and migration and asylum seeker support organisations.
This survey is open to respondents from England, Northern Ireland and Wales. As Scotland's Best Start Foods scheme is separate, we are not including the nation in this survey.
13/09/2023
---