Growing fruit and veg at home is good for health, sustainability, and resilience
Researchers at Sheffield University have demonstrated that people who grow fruit and vegetables at home eat more fruit and veg and reduce food waste.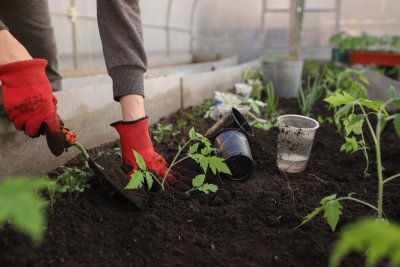 Planting tomatoes. Credit: Ekaterina Ershova | Pixabay
On average in the UK, we eat less than three quarters of the recommended five portions of fruit and vegetables every day. Less than a third of adults and fewer than one in 10 teenagers meet this 5-a-day target, with serious implications for malnutrition, obesity and non-communicable diseases like diabetes.
Scientists at Sheffield University were interested to find out how growing fruit and veg at home can contribute to a food system that provides sufficient amounts of healthy food for all, and can withstand socio-economic and environmental shocks and pressures brought about by urbanisation, climate change, and future pandemics.
Their research shows that people who grow their own fruit and vegetables at home, on average, produce more than half of the vegetables and 20% of the fruit they consume each year – a huge contribution to their dietary intake.
Importantly, people growing their own fruit and veg were found to eat 6.3 portions a day, well above the 5-a-day recommendation and 70% higher than the national average. The amount of fruit and veg wasted by these home-growers was a whopping 95% lower than the UK average, highlighting huge co-benefits for the climate impacts of our food system.
The researchers found productivity improved with the amount of land available, and the skills that the growers had, recommending that:
"Building capacity among the public to produce their own fruit and vegetables will require increased provision of growing space as well as promoting access to the skills needed to grow, prepare, cook and preserve produce to maximise nutritional and self-sufficiency benefits. Crucially, we need to find ways to overcome socio-economic challenges to upscaling household fruit and vegetable production, especially among those most affected by low fruit and vegetable intakes, such as low-income families and children." - Boglarka Z. Gulyas and Jill L. Edmondson
If 10% of households in the UK who do not currently grow food at home took up fruit and veg growing, this would produce roughly 460,000 tonnes per year, or 8.7% of UK imports. These findings highlight the immense opportunity presented by giving people the skills and opportunities to grow more of their own food, with positive implications for their health, the resilience of our food system, and the climate impacts of food.
12/09/2023
---