Aberdeen project takes up veggie school meals
The project is aimed at increasing the uptake of free school meals in the Torry area of Aberdeen. Veg Cities is supporting the work to ensure more vegetables are eaten with school dinners and to increase the uptake of vegetarian school meal options.
Visit the Community Food Initiative North East VEG CITIES local page
Aberdeen City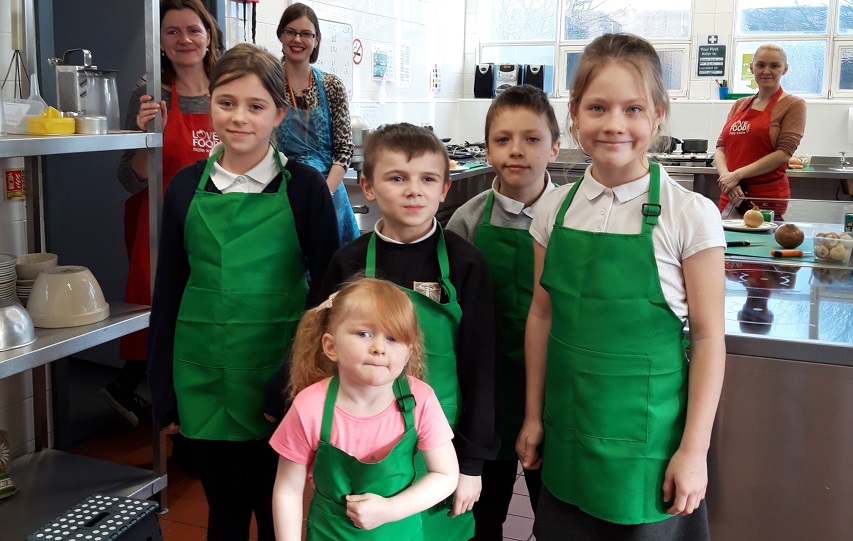 Credit: CFINE
The first stage of the project included initial veg workshops at Tullos and Walker Road Primary Schools and cooking classes in Tullos Primary School. The workshops went down well. The team discussed school meals with the children while eating vegetable crudités with humus and tomato salsa. The children scored plant-based and meat-based meal options from the school meal menu and then the least and most liked meals were chosen to feature in six cooking classes: Vegetable Frittata, Chicken Korma, Baked Bean Lasagne, Lentil Soup with Soda Bread, Spaghetti bolognaise with salad and Singapore Noodles with Tiffin for desert.
The instalment of six cooking classes over six weeks in Tullos Primary School has been directed by Chef Arfan and its nearing its end. Up to six families participated, including pupils, parents and siblings. The children have all peeled, chopped, mixed, cooked, baked, served and eaten together. Parents have enjoyed the time out and cooking with their children and many a conversation has been struck up on healthy eating and cooking. On the last week of the cooking classes, the families are sitting down together to eat and celebrate.
The next step in the pilot is to repeat the cooking sessions for families of Walker Road Primary School. This time the cooking sessions will take place at Community Food Initiates North East (CFINE)'s Cook the Nook state of the art community training kitchen which has eight fully equipped stations for the participants to enjoy their experience.
The project has funding from the Aberdeen City Health & Social Care Partnership Healthy Improvement Fund. It is run by CFINE in partnership with the Aberdeen City Council Communities Team, Tullos Primary School and Aberdeen City Council catering team.
You can read more about the project by visiting: https://www.vegcities.org/news/jan19_veg_cities_aberdeen/
Sustain are encouraging more areas to launch Veg Cities campaigns, and get local businesses and organisations making veg pledges. Veg Cities is currently the feature campaign of Sustainable Food Cities, and is run in partnership with Peas Please.
19/03/2019
---